April 7, 2007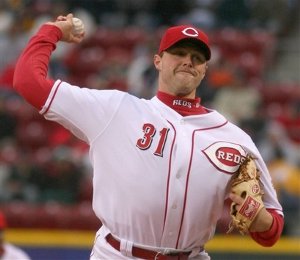 The Reds competently put themselves in a tie for first place with the Pirates by beating those self-same Pirates last night, 1-6.
Matt Belisle took the mound and was the awesome, allowing just one run (earned) on four hits and one walk in six innings. He struck out six. Either FSNO has added a great new camera to center field, or I'm just now getting the baseball-watching sophistication to notice what the pitches actually look like, but Belisle looked real good to me. And not just in his pretty white uniform.
How much did the Reds need that? For them to realize the greatness that we fans know they have the potential for, Belisle had to step up. Could he overtake Eric Milton? We'll see: Milton's scheduled to go tomorrow.
After Belisle's turn, Todd Coffey, Mike Stanton, and Kirk Saarloos each put in an inning on the mound, none of them allowing even a hit or walk and notching five Ks among them. The bullpen: another group that needs to step up in order for the Reds to succeed.
On the offensive side, Brandon Phillips scored the Reds' first run in the first inning with a solo shot that his father was in attendance to see. Jeff Conine's three-run homer in the third inning is probably more telling. Conine: perhaps among the most important people to step up. The one major loss the Reds suffered this off-season was Rich Aurilia, and I was not at all confident that Conine would be ready to step up and fill that gap. Here's hoping that he proves me wrong.
The win brings the Reds' record to 3-1. They continue the series with the Pirates this afternoon at 1:05 when Aaron Harang goes out against Tony Armas.