April 5, 2007
You'd never know it by the final score, but the Reds took home a nail-biter this afternoon when they beat the Cubs 2-5 to take two of the three in the opening series of 2007.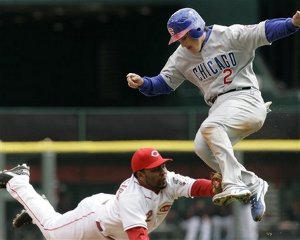 Why in the heck the Reds' offense had so much trouble with Jason Marquis I'll never understand, but the Cubs were similarly unsuccessful with Kyle Lohse on the mound for the Reds. Though he did give up 10 hits and a walk in his six and a third, he allowed only two runs (earned).
The parade of relievers that followed included Victor Santos for two outs, Rheal Cormier, Kirk Saarloos, and Mike Stanton for an out apiece, and David "Inclement" Weathers for the final inning and the save. None of them gave up so much as a hit. Theoretically, a reliever would approach his true ERA as his pitch count approached infinity. Perhaps manager Jerry Narron thinks he'll get luckier keeping these guys as far from infinity as possible.
On the offensive side, only Scott Hatteberg contributed a home run; the 2-run insurance number in the eighth inning after Edwin Encarnación walked. My brother called today and told me that Hatteberg is 37. Does he look that old? I think I would have guessed 32. In any event, it takes some of the steam out of making fun of Jeff Conine's age.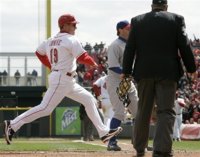 Speaking of, Conine also contributed an RBI today, as did EdE. Everyone's got to contribute.
The win brings the Reds' record to 2-1 and puts them in a tie for second place in the division over the Pirates who swept Houston. They're going to get cold quite tomorrow, though, when they come up against one Mr. Matt Belisle at 7:10 p.m. He's been overlooked as a starter for a couple years, and he's ready to take it out on some swashbucklers.
For the Cubbie perspective, check out The View from the Bleachers.