March 23, 2010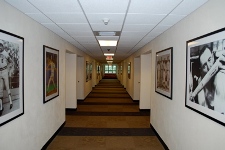 Pat Lackey of the Pittsburgh Pirates blog Where Have You Gone, Andy Van Slyke? recently took a week-long trip to Florida to check out Spring Training in the Grapefruit League. He also received an unexpected opportunity to tour Pirate City.
Pirate City is a facility that the Pirates opened back in February of 2009. It serves as the home for the Pirates Florida operations, and includes dorm rooms for players and staff.
According to Lackey, the Pirates house all of their minor-league players on-site during Spring Training. Apparently, the Detroit Tigers are the only other team to do such a thing. I know that the Reds don't.
It sounds like the Pirates have done a great job of incorporating the history of the team into the complex, with pictures of past greats adorning the hallways. Another nice touch is that each of the dorm rooms is dedicated to a particular Pirate All Star.
Lackey also got a meet-and-greet with Pirates GM Neal Huntington, and got to see many of the conference rooms and player areas. There are more pictures and details about how Pirate City is used here.