March 17, 2010
Eight games into the pretend 1977 season and the Reds are in the middle of the pack. Fourth place and 4-4, which is total bullshit. Have you seen this friggin lineup??
On the Field
1. Joe Morgan
2. George Foster
3. Pete Rose
4. Ken Griffey
5. Johnny Bench
6. Dan Driessen
7. Dave Concepcion
8. Cesar Geronimo
On the Mound
1. Tom Seaver
2. Fred Norman
3. Paul Moskau
4. Doug Capilla
5. Jack Billingham
6. Mario Soto
Of course, you have to question any system that allows the Royals to lead the AL and the Expos to lead the NL. I know it was a long time ago, but geez.
Here's the pretend standings for both leagues as of today: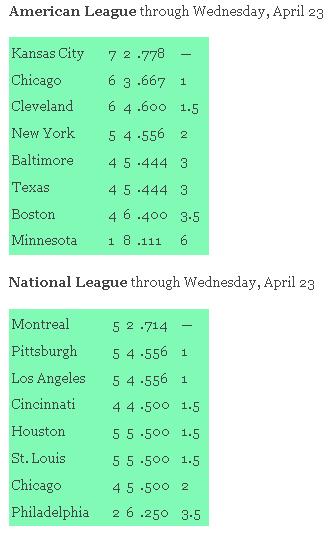 And to give you a frame of reference, here's how the actual NL in 1977 finished the season:


For the moment, I'll call it a small sample size anomaly.
To read all about this exercise in nostalgic fantasy, check out Play that Funky Baseball.