March 26, 2010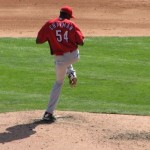 Noted baseball columnist Peter Gammons, now working for the MLB network, put his feet firmly on the Chapman bandwagon.
Chapman will learn to recover from not having his best stuff, or having a stiff back, or getting hit around. It's all part of the process, and if he learns as [advisor Tony] Fossas believes he will, then Chapman could be a major contributor to the Reds in the second half of the season. Which will be no small matter.
Gammons touches on how difficult it has to be to be Aroldis Chapman. He's fled from his home communist country for one with an entirely different culture. He doesn't speak the language that the majority of the people do, and the pressure placed on him to perform is unbelievable. (Although I think the pressure he faced when pitching for the Cuban team may have been about the same.)
Chapman is facing all this change and stress, and he's only 22.
Gammons then moves on to how the Cincinnati Reds are a popular pick for a surprise, sleeper team.
If there is a sleeper team in Arizona, it is Cincinnati. Opposing managers, scouts and players alike think that the Reds can make a run in the National League Central.

"There's a very good feeling here," says Scott Rolen, whose health is an important factor. "There's a lot of talent here, the atmosphere is good, there's a blend of youth and experience and there's a very positive vibe. We can be pretty good."
I remember when the Milwaukee Brewers received that honor for a few years in a row. I'm optimistic that Cincy will have more staying power. With the tremendous depth in starting pitching, beyond just Chapman, the future really is starting to look bright.