May 23, 2011
Drat. I was so sure I was going to get out of training tonight when rain canceled my son's baseball practice. Unfortunately, the clouds blew through leaving a lovely evening for running. Really that's "fortunately," since every bit of pain I endure now will make me less likely to puke on June 11.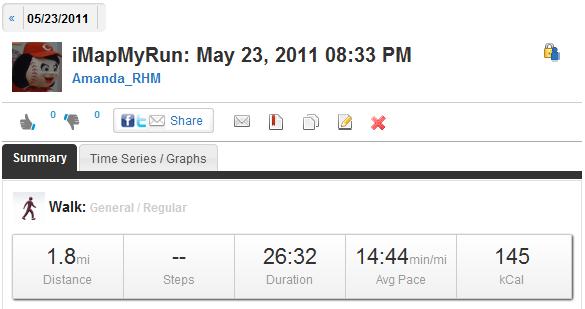 As you know, if you've been following this Blog Jog silliness, one of the fun things for participants will be dressing up in wacky costumes and/or clothing bearing the insignia of your blog of choice. We'll be wearing a design of our own making, which is almost done and will be available on Cafe Press, should anyone else want to don our colors.
Of course, to do that, you'll want to register for the Blog Jog. To do that, go to http://reds.com/5k to register for the Redlegs Run, then email [email protected] to say you'll be at the Blog Jog events before and/or after the run. You have to pay to be in the run, but you don't have to pay any extra to hang with the blogging community, even in real life.