May 23, 2011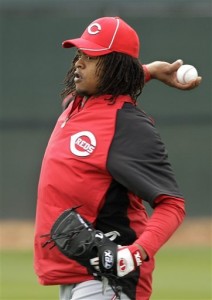 It's happened again. The Cincinnati Reds have sent Edinson Volquez back to the minors.
Last year, after returning from Tommy John surgery, Volquez struggled with his command and was eventually sent down to the minors to sort things out. This year is very similar to last year, although this year's frustrations seem to be isolated primarily to the first inning. And while I prefer my idea of just having a reliever pitch the first inning and having Volquez "relieve" in the second, I guess sending him down to AAA Louisville might help, too.
The Reds made some other moves, too.
Today the Reds recalled from Louisville IF/OF Todd Frazier (#21) and LHP Matt Maloney (#56) and optioned to Louisville RHP Jordan Smith and RHP Edinson Volquez.
Frazier will be making his major league debut when he first makes an appearance.
How did Volquez take his demotion after failing to get through 3 innings in his last start?
"He took it like a man," Baker said. "[H]e needs to go down there and get himself right. That's why we're doing it. It's going to be hard to go all the way and win, if we don't have him, a sharp Volquez. This is a temporary setback. Sometimes in this game or life period, you've got to take a step back to go two or three steps forward. It's tough to take that step back. The time is now. You still got 3 1/2 months when he comes back. There are a lot of ballgames left.
There is a lot of time left, and the Reds do need their number one pitcher. But with this move and the way they've played recently, my confidence in their ability to repeat as NL Central champs is shaken. They're making the road harder for themselves.