Monthly Archives: May 2011
May 23, 2011
Just in time for the Blog Jog on June 11, the Crack Shirt-Design Staff introduces our new Run Like a Girl design. Now, you too, can dress like your favorite female Cincinnati Reds blogger.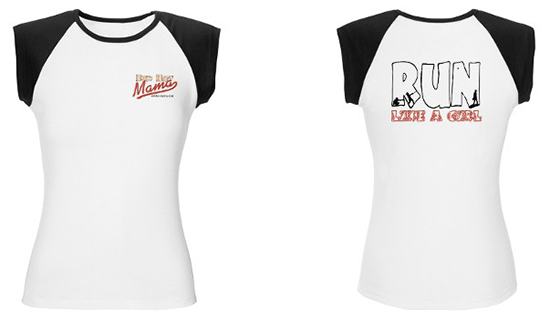 Visit Cafe Press soon to get your shirt in time for the event. We ordered ours tonight, and expect to get it a week before the race.
Women's shirt: http://www.cafepress.com/redhotmama.542852618
Men's shirt: http://www.cafepress.com/redhotmama.542855535
May 23, 2011
Drat. I was so sure I was going to get out of training tonight when rain canceled my son's baseball practice. Unfortunately, the clouds blew through leaving a lovely evening for running. Really that's "fortunately," since every bit of pain I endure now will make me less likely to puke on June 11.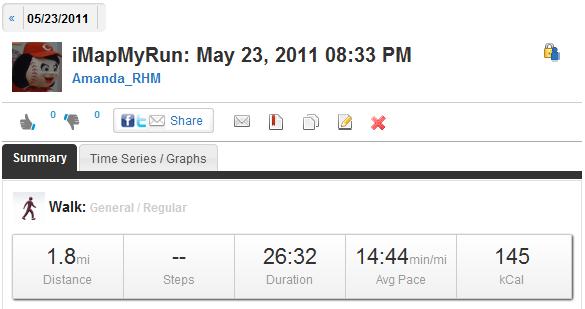 As you know, if you've been following this Blog Jog silliness, one of the fun things for participants will be dressing up in wacky costumes and/or clothing bearing the insignia of your blog of choice. We'll be wearing a design of our own making, which is almost done and will be available on Cafe Press, should anyone else want to don our colors.
Of course, to do that, you'll want to register for the Blog Jog. To do that, go to http://reds.com/5k to register for the Redlegs Run, then email [email protected] to say you'll be at the Blog Jog events before and/or after the run. You have to pay to be in the run, but you don't have to pay any extra to hang with the blogging community, even in real life.
May 23, 2011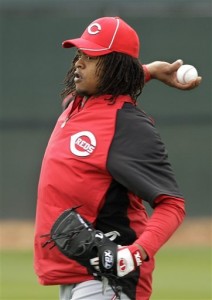 It's happened again. The Cincinnati Reds have sent Edinson Volquez back to the minors.
Last year, after returning from Tommy John surgery, Volquez struggled with his command and was eventually sent down to the minors to sort things out. This year is very similar to last year, although this year's frustrations seem to be isolated primarily to the first inning. And while I prefer my idea of just having a reliever pitch the first inning and having Volquez "relieve" in the second, I guess sending him down to AAA Louisville might help, too.
The Reds made some other moves, too.
Today the Reds recalled from Louisville IF/OF Todd Frazier (#21) and LHP Matt Maloney (#56) and optioned to Louisville RHP Jordan Smith and RHP Edinson Volquez.
Frazier will be making his major league debut when he first makes an appearance.
How did Volquez take his demotion after failing to get through 3 innings in his last start?
"He took it like a man," Baker said. "[H]e needs to go down there and get himself right. That's why we're doing it. It's going to be hard to go all the way and win, if we don't have him, a sharp Volquez. This is a temporary setback. Sometimes in this game or life period, you've got to take a step back to go two or three steps forward. It's tough to take that step back. The time is now. You still got 3 1/2 months when he comes back. There are a lot of ballgames left.
There is a lot of time left, and the Reds do need their number one pitcher. But with this move and the way they've played recently, my confidence in their ability to repeat as NL Central champs is shaken. They're making the road harder for themselves.
May 23, 2011
And not just a quick rinse like Mr. Redlegs, but the full 15 seconds. Pay attention kids: that's how you avoid the dreaded flu-like symptoms.