September 23, 2011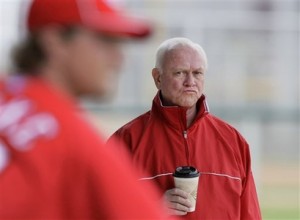 Today the Cincinnati Reds announced a new 3-year contract for General Manager Walt Jocketty that will keep him with the Reds through 2014.
CINCINNATI – Cincinnati Reds President and Chief Executive Officer Bob Castellini today announced the signing of President of Baseball Operations and General Manager Walt Jocketty to a 3-year contract extension through the 2014 season.

Jocketty's original contract was to have expired at the end of the 2011 season.

"Since he's been here, Walt has vastly improved our baseball operations within the organization," Castellini said. "You can't develop a winning tradition without stability. Walt and his staff are doing good things here. We want to keep that momentum going."

Jocketty joined the organization in January 2008 as a special advisor to Castellini, and three months later he was named to his current position. In 2010, in just his third season at the helm of the club's baseball operations department, Jocketty led the Reds to the National League Central Division title by 5.0 games with a 91-71 record and their first appearance in the Postseason since 1995.

The 2010 Reds club was the eighth led to the playoffs by Jocketty and, including his time in St. Louis, his seventh to win the NL Central outright. His 2006 Cardinals team won the World Series.

After the Reds' 2010 championship season, Jocketty was recognized by his peers and Sporting News as Major League Baseball's Executive of the Year. He also won that prestigious award in 2000 and 2004.
In four years as the leader of the Reds, Jocketty has had exactly one winning season. Granted, the team won its division then, but it sure would be nice to see better results. I'm optimistic that his next 3 years will see at least 2 winning years.