September 19, 2011
At the end of the 2010 season the Reds were the NLC champions, owners of the NL MVP award, and just generally full of promise and hope. The offense was killer, the rotation looked solid, and that ridiculous Jim Edmonds experiment was at an end. Things were looking good.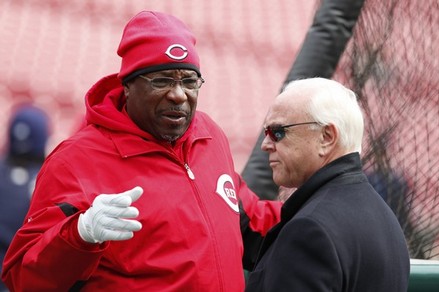 Then, a month into 2011, and it was already becoming clear that this was, again, not going to be Cincinnati's year. The pundits are out and talking about how the offense underperformed (though really, they performed plenty, just not at the right times) and how the pitching that was supposed to be a strength turned out to be a liability and how the injury bug bit the team.
While all that is true, I want to make sure that Dusty Baker gets his fair share of the where-did-it-go-wrong attention. Though Brandon Phillips had to take matters in to his own hands to shake up the line-up, I'm not talking about line-up construction this time. And though Juan Fransisco had to await an act of God to get a couple innings at third, I'm not even complaining about the young guys not getting a chance.
My complaint about ol' In-Dusty-We-Trusty these days is two-fold. First, this just doesn't seem to be the kind of team he's good at motivating. Give him some big stars and more mature players, and he'll get the most out of them. But the most tenured players on this Reds team are Bronson Arroyo and Brandon Phillips. Frankly, I give more of the credit for the team's success last year to Scott Rolen than Dusty Baker.
Second, there seemed to be an utter strategy disconnect between Baker and Walt Jocketty. Not that I won't have plenty of words for Jocketty tomorrow, but these two guys have got to be on the same page if there is any hope of wringing the potential out of the roster. The fact that Baker doesn't care for statistical advice and resents bloggers is really just a footnote compared to being given a roster full of high-potentials whom he was bound and determined to misuse, apparently on principle.
It was not, however, the kind of season that gets a manager fired. If the team wins out, they'll still make .500, and let's not forget that they're still just a season removed from winning the division. Even so, unless Jocketty acknowledges the special needs of Baker and brings in a motivational old guy who can be a leader on the field, I'm afraid we'll be seeing more of this season in 2012.