September 8, 2011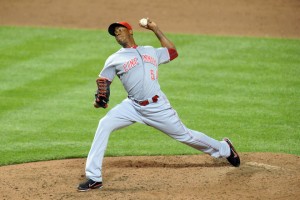 In yesterday's Reds Notebook, Mark Sheldon wrote about a few interesting things Cincinnati Reds pitching coach Bryan Price had to say about Aroldis Chapman.
"With all the question marks on who's going to be with us going into next season, it's hard to say for sure," Reds pitching coach Bryan Price said on Wednesday. "I would be very confident in saying that he will absolutely get a chance to start, maybe as early as next season."
This sounds good to me. Chapman may not work out as a starter, but given how much more valuable good starters are, he certainly deserves a chance. And this is the first time I've heard a Reds manager mention that in a while.
"There are a lot of benefits to him starting. No. 1, I think his growth as a pitcher will increase at a faster pace when he gets more time, more innings, more bullpen time to really focus and work on his delivery and his pitches and situational baseball."
Given how dominant Chapman can be when he's consistently delivering his pitches, seeing that as a starter would be amazing.
The Reds will be tempted to try Chapman as the closer, depending upon how they deal with Francisco Cordero, but I hope they resist that temptation. Chapman needs to spend some time in the Reds' rotation.