September 25, 2011
| Team | 1 | 2 | 3 | 4 | 5 | 6 | 7 | 8 | 9 | R | H | E |
| --- | --- | --- | --- | --- | --- | --- | --- | --- | --- | --- | --- | --- |
| Reds (77-82) | 1 | 2 | 0 | 0 | 0 | 2 | 0 | 0 | 0 | 5 | 11 | 1 |
| Pirates (71-88) | 0 | 3 | 0 | 0 | 0 | 0 | 0 | 0 | 1 | 4 | 4 | 1 |
W: Willis (1-6) L: Moskos (1-1) S: Cordero (35)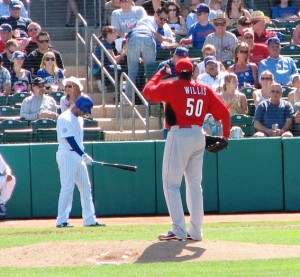 As has been well documented, Dontrelle Willis has been searching for a win for a long time.
And in his last start for the Cincinnati Reds in the 2011 season, he finally got it, with very little thanks to closer Francisco Cordero.
Willis turned in his customary 6 innings, 3 runs start, and this time it was enough.
The Reds scoring started in the 1st, when Jay Bruce drove in Brandon Phillips. In the 2nd, Devin Mesoraco drove in Juan Francisco. And then Paul Janish sacrificed a fly to plate Mesoraco.
Willis struggled in the bottom of the 2nd, allowing the Pittsburgh Pirates to tie it 3-3, but he soon took matters into his own hands. In the 6th, Mesoraco singled. Janish doubled. And Willis added his own double to bring both runners in, making it 5-3.
Cordero was brought in to close out the game in the 9th. Like so many previous times, the bullpen allowed some runs. Cordero allowed a run-scoring double to Neil Walker, and with a runner on second base, it looked like Willis' win was in jeopardy. But Cordero was able to strike out the final two batters to end the game.
The win makes Willis' record 1-6 on the season, over 13 starts.