October 6, 2011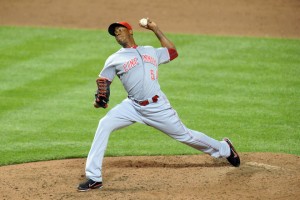 In what I think is a good move, the Cincinnati Reds today announced that Aroldis Chapman will begin his transition to becoming a starter for next season.
The plan is for him to build up arm strength at the Reds' facility in Goodyear, AZ before heading to Puerto Rico for winter ball.
"We're finalizing plans right now," Reds general manager Walt Jocketty said. "He'll gradually build up his innings. He'll pitch two or three innings to start. Eventually, we'll get him up to five innings."

Chapman will spend about a month in Winter Ball.

"That will give him time to rest before spring training," Jocketty said.
Sounds good to me. Chapman has never been given a chance as a starter. He spent half of 2010 in the minors as a starter, and this year was sadly wasted. He might not be suited for it–he has a history of being wild–but it behooves the Reds to find out. As this year showed, their starting pitching depth isn't nearly as deep as they thought.