March 9, 2012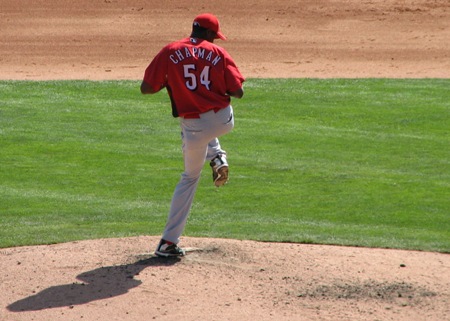 There aren't many things in life that make me so angry I feel my blood pressure rise and my emotions take over until I can take a temper check. Someone changing my code into a worse, less correct form without any good reason? Sure. also, this news about Aroldis Chapman.
Bill Bray's groin injury could lead to Aroldis Chapman being shifted back to the bullpen.
Pardon the language, but for fuck's sake. The Cincinnati Reds have committed millions of dollars to Chapman because their scouts believed he had the potential to become an ace, a number 1 starter in their rotation. And now, there's an injury to a middle reliever and the team is ready to throw that investment away again?
"We've got the luxury of three lefties in the bullpen — or potentially three lefties," Dusty Baker said.

That includes Chapman.

"That's a pretty good back-up plan," Baker said. "As it is, we've got six starters anyway."
Last year was nothing but a complete waste of a year for Chapman. He spent the whole year in the bullpen and the team learned nothing–absolutely nothing!–about the guy's ability to be a starter. And now there's a chance of throwing another year down the toilet just so he can fill in in the 6th or 7th innings? That's a colossally stupid idea.
This team has done much better at evaluating talent and making prudent decisions over the last few years. But when it comes to Chapman, they've had their heads so far up their asses they can count the polyps. I hope this amounts to nothing because the mere thought of another year of not learning what Chapman can offer from the rotation has me seeing red. And not the baseball kind.