March 7, 2012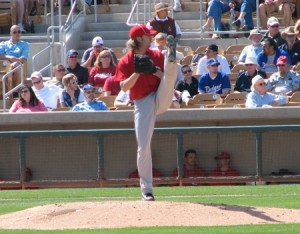 After last year's career-worst performance, Bronson Arroyo changed up his off-season workouts and reported to Spring Training feeling "as healthy and flexible as I've been in a lot of years."
Of course, everyone shows up to Spring Training in the best shape of their lives*. But the first real test is not Arroyo's self-reporting, but some game action. Arroyo started today. How's he lookin'?
"I felt like the ball was coming out of my hand better than it was in couple of years," he said. "I'm interested in the velocity. Then it gets down to pitching."

Arroyo was told he was hitting 88, 89 mph on the radar gun.

"There you go," he said. "I feel like if I can throw 90 miles an hour when I want to, I feel good about what I can do out there. Last year, I was humping it up there at 86 a lot of times with everything I had."
Arroyo went the longest of any Reds starter so far this Spring, pitching three innings. Over the course of that, he allowed one run, two hits, and one walk. And while the speed increase of 2-3 miles per hour on his fastball is a promising sign, the fact that he struck out nobody during his outing has me a little concerned.
The Reds have a chance to be good this year, but Arroyo, even with his large salary, cannot be given too long of a leash. Another year like last year would likely sink this club.
* Juan Francisco is not included in the definition of "everyone."