March 21, 2012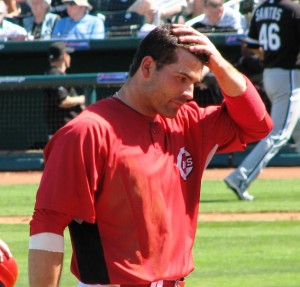 I missed this the other day, but just saw it on Redleg Nation when catching up on Cincinnati Reds news (or the lack thereof) tonight. Joey Votto had an interview with CBS Sports' Jon Heyman about the large contracts that Albert Pujols and Prince Fielder signed in the off-season.
"They did great, they did excellent," Votto said. "Prince and Albert both stayed healthy and consistent. Albert obviously performed at an incredible level. And Prince performed in his own right, and he got a ton of years. To get nine or 10 years is what most (top) players look to. … Both guys are super talented, and I hope they live up to those contracts."
Votto, as always, comes across as thoughtful and unafraid to say what he believes is true. He noted how clubs now shy away from signing players 35 and older to big contracts as. So the best thing is for players to maximize the number of years like Pujols and Fielder did.
Of course, Cincinnati is a small-market team, and talk of contracts like those might make him seem unwilling to stay. But he says that's not the case.
"I'm very proud I'm with the Reds," Votto said at one point.

When asked if he'd like to stay, he answered, "I definitely do."
That's good news. Hopefully, the Reds can work something out to keep Votto here for a bit longer than his current contract.