March 1, 2012
I bet you thought that I was going to make some sort of jab about how Molina ought to be locked up, seeing as he's a fight-starting, Brandon-Phillips-hating thug. But I'm not, and shame on you for assuming.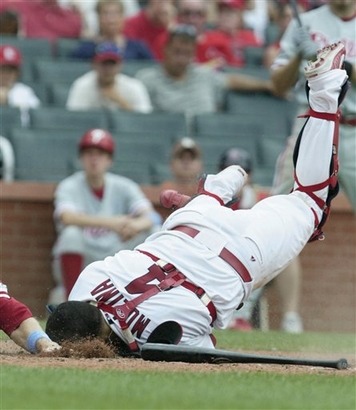 The St. Louis Cardinals, pocket nearly burned through with all the money they didn't have to give to Albert Pujols, signed Yadier Molina to a 5-year, $75 meeeeeellion deal, the club announced today. From StLCardinals.com:
The Cardinals announced the contract extension during a press conference Thursday at the team's Spring Training facility. A new five-year deal, which will begin with the 2013 season, will pay Molina $15 million per year. The contract also includes a mutual $15 million option that would extend the length a year further.

This new contract does not buy out the final year of Molina's current five-year deal, meaning that the catcher will still earn $7 million in 2012. Molina would have become a free agent next winter had an extension not been reached.
Now, Yadi Molina is good. Like, maybe the best active catcher in the game. Like the kind of catcher that makes the manufactured Ryan Hanigan v Devin Mesoraco debate seems even more pointless than it already seemed. But $15 million a year for a catcher who will be 36 at the end of the deal? There's no way that's not overpaying at some point before 2018 is over.
But I guess they've got to spend their money somewhere, and someone needs to be the team's identity now that Pujols is soaking up the California sun and Carpenter will be applying for Social Security. Might as well be Molina. Might just want to hold on to a little of it for fines, is all.