March 13, 2012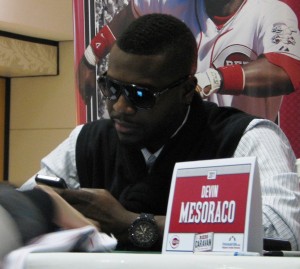 In case you'd forgotten, Cincinnati Reds second baseman Brandon Phillips will be a free agent after the 2012 season. Phillips has campaigned throughout the off-season for an extension on his twitter account. Today, he spoke briefly to Cincinnati Enquirer beat reporter John Fay, and I mean briefly.
It sounds like the Reds and Brandon Phillips' agents met to discuss a contract extension Monday.

"I don't know . . . probably," Phillips said. "Talk to (Walt) Jocketty."
I know Phillips isn't a fan of the proceedings, but I'm happy with how the Reds have been handling the situation. Phillips has tweeted that the Reds won't get a "homeboy discount." Given the Reds' low payroll, devoting elite bucks to Phillips for several years isn't something the team can do. Phillips is likely past his best years. The Reds have to be smart about how they spend money, and giving Phillips the highest salary of his career when he's past his likely physical prime is not smart.
I love watching Phillips play, and I hope the team and him can work out something that doesn't cripple the club. It seems unlikely at this point, so I'll be sure to enjoy Phillips' leather and infectious smile this season.