March 27, 2012
| Team | 1 | 2 | 3 | 4 | 5 | 6 | 7 | 8 | 9 | R | H | E |
| --- | --- | --- | --- | --- | --- | --- | --- | --- | --- | --- | --- | --- |
| Cubs | 1 | 0 | 1 | 0 | 1 | 0 | 0 | 0 | 4 | 7 | 12 | 0 |
| Reds | 0 | 0 | 0 | 0 | 2 | 0 | 1 | 0 | 1 | 4 | 14 | 2 |
W: Lendy Castillo L: Clayton Tanner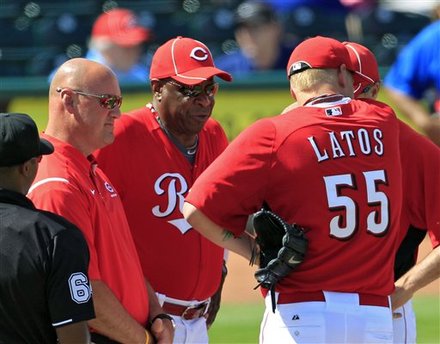 The Cincinnati Reds sent out 18 of their finest players against the Chicago Cubs today, but despite a 4-for-6 showing from Brandon Phillips and defending a lead going into the ninth, the Cubs got the better of them.
In addition to Phillips' four hits, Joey Votto, Jay Bruce, Drew Stubbs, and Dioner Navarro each contributed a couple. Scott Rolen and Chris Heisey brought the total to 14 with a hit apiece. Fourteen hits (plus six walks) ain't bad, but when you leave 27 aboard, you're not going to get very far.
Matt Latos toed the rubber for the Reds, going four and two-thirds innings giving up three runs (two earned) on four hits and two walks. Latos was followed by Justin Freeman, Sean Marshall, Kanekoa Texeira, Clayton Tanner, and Mark Serrano, but only Tanner gave up more runs. Four (earned) to be exact, two of them homers, on four hits and a walk. The lead went along with the runs, earning young Tanner the loss.
The loss puts the Reds at 10-16 for the spring: not exactly worrisome or important, but not exactly exciting to watch either. Tomorrow the team hosts the Angels at 4:05 EDT.