July 29, 2012
| Team | 1 | 2 | 3 | 4 | 5 | 6 | 7 | 8 | 9 | R | H | E |
| --- | --- | --- | --- | --- | --- | --- | --- | --- | --- | --- | --- | --- |
| Reds (60-40) | 0 | 2 | 1 | 0 | 4 | 1 | 0 | 1 | 0 | 9 | 9 | 2 |
| Rockies (37-62) | 3 | 0 | 1 | 0 | 1 | 0 | 2 | 0 | 0 | 7 | 13 | 0 |
W: Cueto (13-5) L: Friedrich (5-8) S: Chapman (21)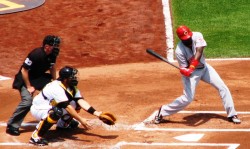 After having just one home run in the last five games, the Cincinnati Reds had five home runs in one game to defeat the Colorado Rockies 9-7.
Johnny Cueto started for the Reds and was uncharacteristically bad, allowing 3 runs in the first inning. And he was lucky. The first four batters reached base via 3 straight singles and a double. After that, Cueto struggled, but managed to battle through and give the Reds time to come back. Cueto's final line was 6 innings, 10 hits, 5 runs, 2 walks, and 3 strikeouts. Thanks to the offense, he even got his 13th win.
In the top of the second, Ryan Ludwick and Todd Frazier both hit solo home runs to bring the Reds within 1. In the very next inning, Drew Stubbs tied it at 3 with his own solo shot. The 5th was when the Reds took the lead, never to give it up again, thanks to a 4-run outburst, this time without the help of homers. Zack Cozart and Drew Stubbs singled in a run apiece, and Brandon Phillips drove in 2 with a double.
The bullpen was a little shaky last night, with Jose Arredondo allowing a couple to score in the 7th, but Scott Rolen added his own solo home run in the 6th, and Ludwick hit his second solo shot in the 8th.
Aroldis Chapman finished the 9th for the save and the Reds won the series while extending their winning streak to 9. The Pittsburgh Pirates won, so they remain 2 games behind Cincinnati. The Reds are 20 games over .500 for the first time since the end of the 2010 season.
The Reds go for the sweep against the Rockies this afternoon. Mat Latos will face Jonathan Sanchez at 3:10pm EDT.