July 21, 2012
| Team | 1 | 2 | 3 | 4 | 5 | 6 | 7 | 8 | 9 | R | H | E |
| --- | --- | --- | --- | --- | --- | --- | --- | --- | --- | --- | --- | --- |
| Brewers (44-48) | 0 | 0 | 0 | 0 | 0 | 0 | 0 | 1 | 0 | 1 | 6 | 1 |
| Reds (53-40) | 0 | 0 | 0 | 1 | 0 | 0 | 2 | 0 | - | 3 | 8 | 0 |
W: Bailey (9-6) L: Estrada (0-4) S: Chapman (16)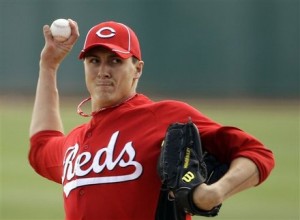 Finally, after what seemed like an eternity, the Cincinnati Reds had a good start. And this one from Homer Bailey was great.
For the third time in his last 4 outings, Bailey went 8 innings. He dominated the Milwaukee Brewers of that time, allowing just 6 hits, walking none, and striking out a career-high 10. In short, it was an amazing performance. And it's one that's becoming more and more customary from Bailey.
So far in 2012, Bailey is turning in the best year of his career. He has his lowest ERA at 3.74 (and highest ERA+ of his career at 112). He's got his lowest WHIP at 1.271, and is approaching career highs in games started, innings pitched, and strikeouts. Wins aren't the best measure of a starter, but with the win last night, Bailey did tie his career-high of 9 wins. Oh, and did I mention he's just 26 years old?
Despite how long it feels like Bailey's been with the Reds, he's still young. And more and more, it's looking like the year he really puts things together. He's come a long way from looking like Keanu Reeves' grandmother.
Of course, Bailey couldn't win the game by himself. The offense had to score some runs. All 3 of the Reds' run came from solo shots. Zack Cozart hit his 10th, Jay Bruce hit his 19th, and Scott Rolen hit his 4th.
Bruce broke a bad 0-19 slump with a 2-3 game. With Joey Votto out, this would be an awesome time for Bruce to go on one of his patented Player-of-the Week tears. And Rolen was playing with more energy than I've seen all year. He went 2-3, as well. The fastball he hit for his homer was hit with more authority than I've seen him swing with since 2010. If Bruce, Rolen, and Brandon Phillips–the hero of the previous game–can keep stepping up, this stretch without Votto could turn into a big positive for the team.
The win keeps the Reds in first place, 1/2 game ahead of the Pittsburgh Pirates. The Reds look to increase that lead when they play their second game against the Brewers tonight. Bronson Arroyo will start against Yavani Gallardo. The first pitch is scheduled for 7:10pm EDT.