July 23, 2012
A week ago, the doorbell rang and I made it to the front door in time to see the UPS truck driving away. Under the welcome mat lay an envelope that I wasn't expecting. I opened it to find a letter:
Congratulations! Your name has been selected as a Grand Prize Winner in the Kellogg's/Marsh – Kirk Herbstreit Sweestakes!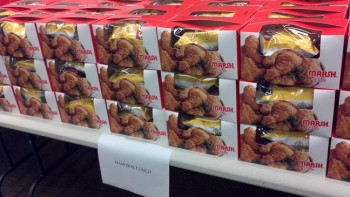 At first I thought it might be a scam, since you always get those email scams that claim you won an international lottery you didn't enter, and I didn't enter this contest either. But upon reading the official contest rules (also included), I discovered that everyone who bought any Kellogg's product from Marsh (a local grocery store chain here in Indiana) and used their rewards card at checkout was automatically entered. And we had, indeed, recently bought some Pop Tarts.
So, with just 2 days' notice, I made plans to head to the Marsh headquarters during the middle of the workday on Wednesday for a lunch and meet-and-greet with a guy I had to Google to find out who he was (he's a football analyst on ESPN, btw).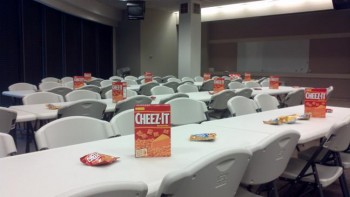 There had been 100 grand prize winners, and each was entitled to bring a guest, so they had seating and box lunches for up to 200 in Training Room B.
Trouble was:
1) they did only give the 2 days' notice to the winners,
2) the event was during the time of day when most people are working, and
3) I probably wasn't the only one who (a) thought it was a scam, or (b) didn't know who Kirk Herbstreit was.
So my son and I sat with the 5 other people who showed up and stared at the uneaten 193 box lunches. At least there wasn't a fight over the ham sandwiches.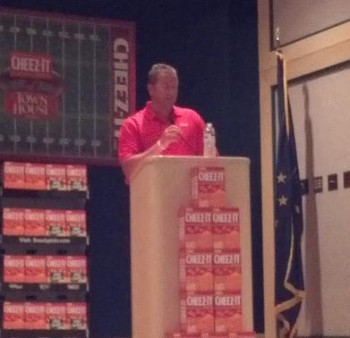 They were running late, and we'd arrived a touch early, so we had plenty of time to get bored in Training Room B (probably like people usually are in training rooms). Plus, the a/c was acting up, so it was a real relief when they finally led us to an auditorium decked out in Cheez-Its and other fine products.
Herbstreit spoke a little on some rule change in college football and the whole Penn State thing, and then took questions. Finally we got to go up and get autographs. I used my autograph to get something for my brother, who requested this photo–it's a reaction shot after the old dude in the middle said the F-word on live t.v.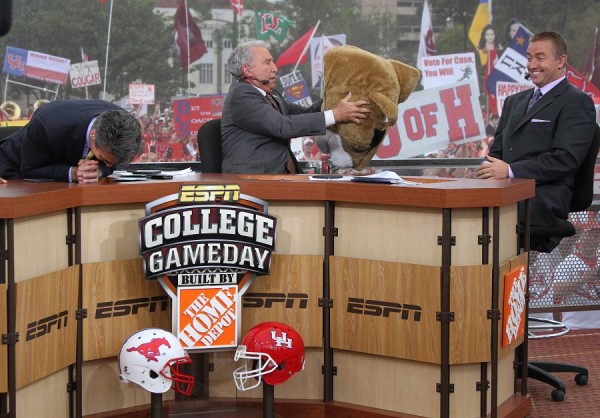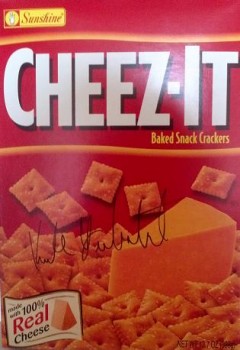 While we were waiting in line, my son and I were bantering about how many boxes of Cheez-Its were on the stage (211), the guy doing "crowd" control gifted us a box to have autographed. I cannot tell you how much this made my son's day. At the end of it all, despite the waiting, the sub-par cole slaw in the lunch, the Q&A about a sport he knows nothing about, he still says "that was awesome!" thanks to receiving a free box of cheese crackers.
After dropping off a couple matchbooks and inviting him to check out the blog (Herbstreit is a Reds fan, as it turns out), we rescued one more box lunch from the mountain and headed back home. I'd tell you to be on the lookout for my picture in Marsh or Kellogg's promotional materials, except they didn't take any pictures of us, and they didn't ask for my publicity release forms.
Instead, just think of me the next time you see an autographed box of Cheez-Its. And if you're Kirk Herbstreit, pulling out my matchbook and visiting the site for the first time: welcome! and don't let your kids play with the matches.