July 17, 2012
The Sports Business Journal featured the television ratings of several teams, including the Reds, in an article yesterday: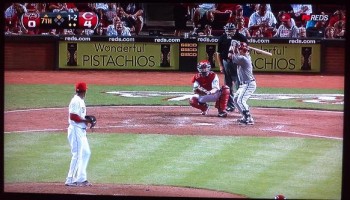 MLB's other strong local media stories include the Cincinnati Reds, Texas Rangers and Washington Nationals, who have posted their highest ratings on record. In addition, the Pittsburgh Pirates are experiencing their highest local TV numbers since 1997.

In Cincinnati, the Reds have parlayed their strong start on the field into the league's second-highest local TV rating. Reds games have averaged an 8.45 rating on FS Ohio, up 8 percent from last year.

"Detroit and Cincinnati are great baseball markets, and the Tigers and Reds have given their fans a reason to cheer — and to tune in," said Jeff Krolik, executive vice president for Fox Sports Networks. "Local ratings are up in many of our markets, which speaks to the overall strength of the game."
This was sent to me by someone from FS Ohio, so this probably isn't what she had in mind, but what this makes me think is that the Reds should be renegotiating their television contract. Maybe they could even look into launching their own network, like the Yankees and other teams have. There's no sense leaving money on the table, especially when there are contracts like Joey Votto's to pay.