Last Game
Despite getting Joey Votto back from his knee inflammation and Zack Cozart back the day after taking a fastball to the noggin, the Reds lost last night. Reds 1, Dodgers 3.
Johnny Cueto has been the loser in his last two starts, preventing him from getting that 10th win of the season. I'm sure it's Tony LaRussa's fault, somehow.
Next Game
At 9:10 p.m., just as people are assembling for fireworks tonight (assuming the drought conditions haven't cancelled them in your town), the Reds will be starting the rubber match against the Dodgers. Mike Leake (3-5, 4.12 ERA) takes on an old friend, Aaron Harang (5-5, 3.68 ERA). Harang is coming off a rough outing where he didn't last through the sixth inning, so hopefully he's not out of the game before I get back home.
Tipping Your Hat
Every year on the fourth of July, the topic invariable turns to the most important thing about this day: the hats that Major League Baseball has the teams wearing. The last few years they've been all white caps with American flag logos, but this year, they're going with the camo logos instead.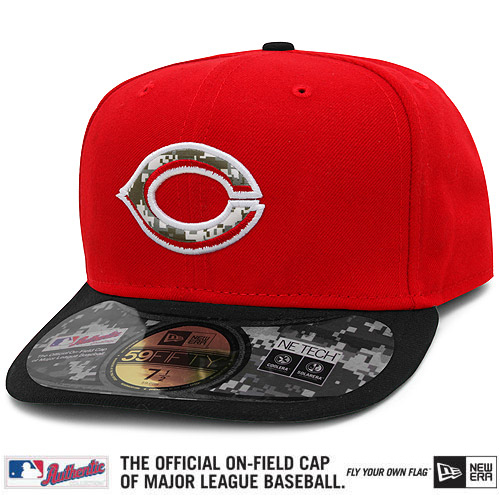 The digital style camo in such small quantities looks a little like we're celebrating Low Bandwidth Day. With the US ranked 12th in the world in internet speeds, that might not be too far off.
What to Say to Sound Smart at the Water Cooler
As of last night's loss, the Reds are now tied for first in the NLC with the Pirates.