October 31, 2012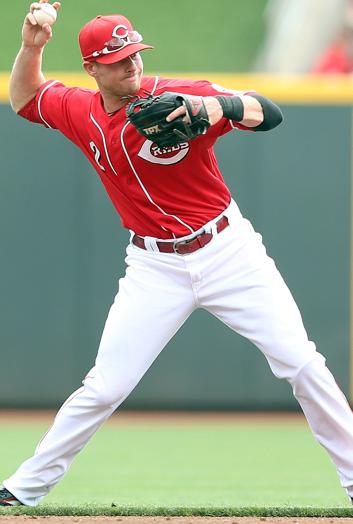 The Cincinnati Reds had more players nominated for a Gold Globe this year than any other team, but at the end of the televised announcement show, they went home with none.
The Reds' candidates were:
Pitcher Bronson Arroyo – In Arroyo's case, I'm going to say it was an honor just to be nominated. He's got some good defense, but the best?
First Baseman Joey Votto – Not really a surprise here, either. Dude missed two months with that knee surgery.
Second Baseman Brandon Phillips – This is the biggest surprise of the night, I guess. Darwin Barney of the Cubs had a pretty good year, but come on, Brandon Phillips is the best there is. It is a vote, though, and Phillips rubs some folks the wrong way.
Shortstop Zack Cozart – Robbed. Totally. The victim of the inertia that Gold Gloves pick up as a player's years of service grow.
Center Fielder Drew Stubbs – Stubbs is probably better in the field than the actual winner, Andrew McCutchen, but if you had to choose between the two players, you're not picking Stubbs. McCutchen is the MLB darling right now.
Right Fielder Jay Bruce – I don't know the work of Atlanta's Jason Heyward to say whether Bruce should have gotten this one. Bruce has a helluva arm, but as a player he's really defined as an offensive force, when he's on.
What does it mean when your team has more guys nominated than any other team but not a single one of them brings home the award? I think it has to be that, while each guy might not be the absolute superstar, as a unit these guys are the best. And I think we've seen that for ourselves.
And frankly, I think I prefer it. It seems like when you've got one guy who wins a Gold Glove at the end of the season, a lot of times it's like a consolation prize, a single ray of hope that you focus on building around for next year. It's actually nice not to be in that situation for a change.
Not that all six of them getting the award wouldn't have been nice, too.
Here's the complete list of winners, FYI:
| Position | AL Winner | NL Winner |
| --- | --- | --- |
| C | Matt Wieters, BAL | Yadier Molina, STL |
| 1B | Mark Teixeira, NYY | Adam LaRoche, WAS |
| 2B | Robinson Cano, NYY | Darwin Barney, CHC |
| SS | J.J. Hardy, BAL | Jimmy Rollins, PHI |
| 3B | Adrian Beltre, TEX | Chase Headley, SD |
| LF | Alex Gordon, KC | Carlos Gonzalez, COL |
| CF | Adam Jones, BAL | Andrew McCutchen, PIT |
| RF | Josh Reddick, OAK | Jason Heyward, ATL |
| P | Jeremy Hellickson, TB and Jake Peavy, CWS | Mark Buehrle, MIA |