Last Game
Unlike the first game at GABP, where Homer Bailey rocked but the team lost, last night Mike Leake sucked and the team still lost. Giants 8, Reds 3.
A lot of people are putting the blame on Dusty Baker, who probably gave Leake too long of a leash and who also saw fit to bring in Jose Arredondo at a moment when the team really needed to not give up 3 more runs, but Baker isn't the one who stranded 10 runners.
Next Game
For the first time in the postseason, today the Reds face elimination. It will be a redux of the first game with Matt Cain going against Mat Latos, though Latos starts in the first inning this time. First pitch at 1:00 p.m. ET.
Learn to Protect Yourself
We were riding high in the first two games of this series, but with our ace not even on the roster anymore and our offense off in that alternate dimension it likes to disappear into for weeks at a time, we're forced to face the minute possibility that this might not be the year after all.
Some will say that a true fan believes 100% until the it's all over, but not everyone can handle getting their heart torn out of their chests right now. Some of us need to batten down the hatches, just in case. So here are my five tips to prepare yourself for the possibility of elimination today: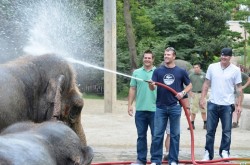 #1. Appreciate all the good stuff you have.
Even if the Reds' season ends today, no one can take away how much you enjoyed those first 2 games. Plus, you probably have your health, right?

#2. Think of all the fun things you'll be able to do with your spare time and money.
Cheering on a team takes a big investment of time (and cash, if you're going to the games in person). Once elimination happens, you'll be able to dedicate that time and money to things like decorating the house for Halloween and storing away all your summer clothes.

#3. Remember that everything that doesn't kill us makes us stronger.
An early post-season exit would encourage the Reds' brass to keep strengthening the team. Maybe we'd have 5 closers by this time next year, or 4 aces. If you're in the anti-Baker camp, remember that losing is the best way to get a manager fired.

#4. Focus on something else.
One way or another, the baseball season is going to end. It's just a matter of when. So why not start scheduling time to vote for Todd Frazier for the the Roberto Clemente award or planning your trip to Redsfest? There are plenty of other activities that can keep your mind off elimination.

#5. Don't forget: it could always be worse.
At least when you say, "there's always next year," there's some truth in it. Not all teams are so lucky.
What to Say to Sound Smart at the Water Cooler
The Reds haven't lost 3 games in a row at home all season. But there's a first time for everything (#6. Keep your expectations low.)