May 1, 2006
ST. LOUIS, MO -- St. Louis Cardinals' ownership took their marketing up a notch today when they began disassembling the seats in the new Busch Stadium to sell on eBay.
The Cardinals sold all manner of items from the previous Busch Stadium to memento-hungry collectors. Everything from dugout benches to clubhouse urinals fetched top dollar. But that sale occurred just prior to the stadium's demolition; this sale is taking place when the seats are less than a month old.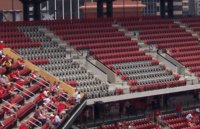 "It just goes to show that we can get our fans to buy anything," said Cardinals Senior Vice President of Business Development Bill DeWitt with a chuckle. "They even buy that this group of has-beens can contend in the long run."
The seats are being disassembled during the Cardinals' road trip to Cincinnati, but they aren't likely to be missed even when the team returns home.
"When this team starts tanking, demand is sure to go down," said DeWitt. "And I figure that's going to start tonight."