August 8, 2006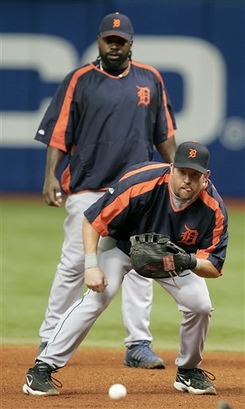 Not that Kriv-dawg had anything to do with Dmitri Young or Sean Casey leaving the organization, but seeing a photo of those guys, so happy playing for the Tigers and leading the ALC by 10 games, I can't help but think of a time when it seemed like the overwhelmingly powerful Reds needed just a couple starting pitchers to completely dominate.
I mean, our boys are second in the division. They're tied for the wild card. It seems kind of silly to complain. But at the same time, Krivsky has gone to such extreme lengths to bring in his own people, that the players on this team hardly feel like my people anymore.
Unlike a lot of you, I haven't been a fan for life. There is no power of tradition in my bloodlines. So maybe that's the reason why I find myself wondering whether a pennant taken by Royce Clayton and Gary Majewski is one that I'd really feel like was won by my team.
I suppose that's not really likely to be a problem, though.
Go Reds!