August 13, 2006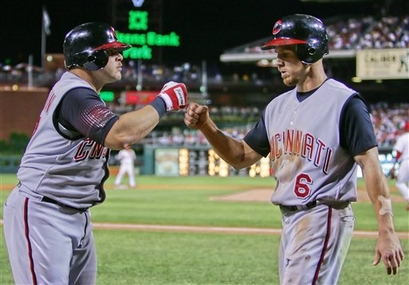 The Reds spared Elizardo Ramirez his second loss in two days with this 9-7 win over the Phillies on Saturday.
Ramirez lasted only an inning and a third, over the course of which he gave up five runs (earned) on five hits and one walk. This performance, along with the other recent sloppy appearances on the mound, got Ramirez optioned to Louisville in favor of Brian Shackelford.
Chris "I don't pronounce the C in my last name" Michalak, brand new to the Reds' roster, took over in long relief. He lasted six and two-thirds innings and allowed just a solo shot (earned) on three hits and two walks for the win. Eddie Guardado allowed a run on two hits in the ninth inning for the save.
You know it's a crazy day offense-wise when Ryan Freel provides three RBI on his 2-for-4 night. It's even crazier when Brandon Phillips gives you two more. When Ramirez gives you one, that's just lunacy. The more likely subjects, Scott Hatteberg, Edwin Encarnación, and Javier Valentín, provided the rest with one apiece.
Ken Griffey, Jr. went 0-for-5 last night, which probably has something to do with Ken Griffey, Sr. being in town tonight. And to both of their credits, Griffey *is* looking better tonight.
And that's all I've got. I was pretty tipsy as I watched this game, which you'll find out all about when you check out this week's podcast later tonight, so I don't remember much more than that. The Phillies think they can challenge for the wild card, so putting them down a little sure doesn't hurt.
The win brings the Reds' record to 60-57. They would go for the win of the series on Sunday, sending Eric Milton out to face Brett Myers.