August 28, 2006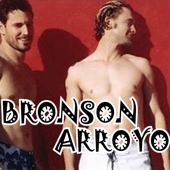 Fans of Bronson Arroyo's debut album Covering the Bases will be lining up for his follow-up work Loading the Bases, due in stores next month.
Bronson pours his heart out in this album inspired by his 2006 season experiences. Bronson's journey has been an emotional roller coaster, and this album takes you along for the ride.
You'll feel the heart-wrenching separation of being torn from his home in Boston and shipped off to Cincinnati when you listen to the first two tracks: But I'm Too Hot For Ohio and I Hope Adam Dunn Doesn't Give Me a Wedgie.
You'll fly high with Bronson through his first nine wins when you hear I'm Too Awesome to Keep Promises to Bloggers and Screw You, Aaron Harang.
You'll enjoy the care-free confidence of the midseason with All-Star Party Dude and Shit, Would You Believe a Double?.
You'll ache along with Bronson during his 11-game win draught in It's David Ross's Fault Anyway and It Would Have Been a Good Outing If You Hadn't Let Those Inherited Runners Score.
Finally, you'll be inspired by the fierce independence of the closing track My Name Ain't Cornroyo.
Loading the Bases is a must-have for baseball collectors and music enthusiasts alike. Pre-order your copy today at the MLB gift shop, cow pastures, and everywhere bullshit is sold.