December 31, 2006
Since there were so many highlights in 2006, and since it makes me feel special and important to put up a bunch of posts, I'm going to break this retrospective down by month. Now we continue to February.
February
The Reds got a new General Manager! After Jim Beattie was reported to have won the job (and apparently had, until the very last minute), he who would later be referred to as "Kriv-dawg" swooped in and snatched it out from under him. Sort of the same way he snatched Juan Castro before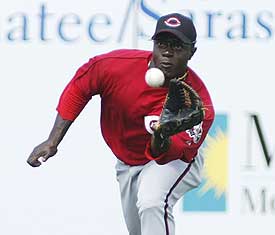 anyone else had a chance to sign him.
Many of us remember Krivsky's early signings as successful, perhaps lucky, moves. But even early on, there were signs of the bafflement that was to come. Two words: Quinton McCracken.
Episode 1 of the podcast (soon to be renamed, btw) was released. As my first foray into the world of broadcasting, it was 1 minute and 55 seconds of audio agony.
This is the month I wrote a fake news story. It wasn't a particularly good fake news story, but it was special in that it was the first time a lie I'd published was reprinted on another blog as fact. I stuck to much less feasible fake news, if I wrote it at all, after that.
The Reds released Josh Hancock for showing up to camp overweight. Hancock, affectionately known as "Snax", went on to sign with the Cardinals.
Discussion of whether the Reds would remain in Sarasota popped up in February. I understand that now the team is definitely staying put thanks to the city of Sarasota agreeing to build a new facility.
The Reds had their first exhibition game against the Tigers of Kia. If my counting is correct, a massive three of those starting nine are in the organization today. The Tigers would kick some Reds' ass.