December 31, 2006
Ah, March. Spring training is really rolling and everyone's getting in that baseball spirit. Is there a more exciting time of the year for a fan of a team that consistently doesn't go to the postseason?
March
The Crack Technical Staff rolled out The Red Hot Diaries at the beginning of this month. Since then, we've had 59 diaries, 25 of them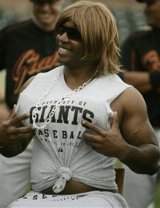 written by the notorious HMZ. Geki is a distant second with 12, and Zeldink is third with 10. You guys gotta pick up the pace if you're going to compete with the Crack Hard Facts Staff.
Barry Bonds entertained us all with his newfound sense of humor about himself. Dressing as a woman? Classic!
On a much more sober note, Reds' pitching coach Vern Ruhle was diagnosed with cancer. He stayed in Sarasota for treatment during the season, and last I heard he was doing well. Tom Hume acted as interim pitching coach through the season.
Back on RHM, we were re-rolling out the Human League and the neat feature that links every instance of a player name to their HL profile. Might not much matter to you, but as the person who no longer had to set those links, it changed my life.
March was the first time I started smack talking with Cubs. Prior to that, I only smack talked with Cardinals. In some ways it's easier: there's a lot more material with the Cubs. In other ways, it's harder: it's hardly fun to say a team stinks when they're already saying it themselves.
Remember when Book of Shadows came out exposing Barry Bonds' steroid use. Good month for Bonds.
In Redsland, the Race for Second Base was on! Before spring training was over, the Reds would have no less than nine players with major league experience playing second. This is what we get from Krivsky.
Speaking of weird things we get from Krivsky, Michael Gosling beaned Sean Casey in the head during this game in spring training. The concussion countdown is on with Mr. Casey, so it was a scary moment.
After much planning, the family and I joined the team at spring training. No sooner did I get there, but the Reds traded Wily Mo Peña for Bronson Arroyo. Little did we know what a huge deal that would turn out to be.
Jason LaRue had the arthroscopic surgery on his knee that would open the door for David Ross to establish himself at the beginning of the season. Oh, that fateful scoping!
Spring training wrapped up and I went home. It was time for real baseball to start!