September 8, 2009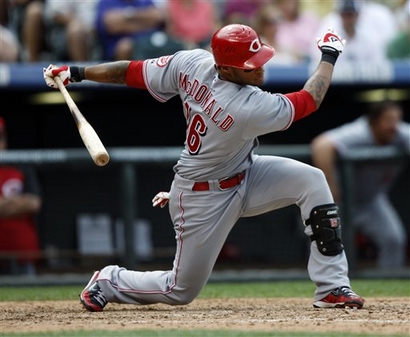 Keeping with the theme of saying nice things about Reds' manager, Dusty Baker, today I noticed that he can make some very good decisions as long as all of the bad options are taken away from him.
Exhibit 1: Paul Janish starting at short stop. Even though Janish showed defensive promise in his fortnightly starts at the beginning of the season, Baker consistently chose Alex Gonzalez's better-in-memory-than-in-reality footwork to go with his forfeited at-bat. All it took was a trade of Gonzalez to Boston, though, and Baker managed not to write Agon's name on the line-up card anymore.
Exhibit 2: Jonny Gomes didn't even make the team out of spring training, with Baker preferring the feel-good story of Darnell McDonald. Enter enough injuries to make both needed, and Baker no longer has the option to choose sentimentality over skill.
Exhibit 3: Ramon Hernandez was Baker's unfortunate favorite behind the plate, but when an injury took the option of using him off the table, Baker was forced to go with Ryan Hannigan, who was actually good. Alas, this injury sword cuts both ways, and the option to use Hannigan was soon removed by a concussion. Again, though, Baker rose to the challenge of choosing the only option available and sent out Corky Miller, who has actually been doing pretty well, despite looking like he belongs in a Budweiser commercial.
Finally is the most obvious one: Willy Taveras was a shoe in for center field and lead-off bat to begin the season. But when Taveras went on the DL and was no longer an option to fill these roles, Baker made the right choice and brought in Drew Stubbs in center field.
Unfortunately, Stubbs has not been the right decision for lead-off bat so far, and as long as he's in center, Baker's going to choose him for lead-off because, for some reason, these two things are utterly inseparable in Baker's mind, but if we can just find a way to take the lead-off option away without removing Stubbs from CF, he'll be sure to change his mind.