March 20, 2011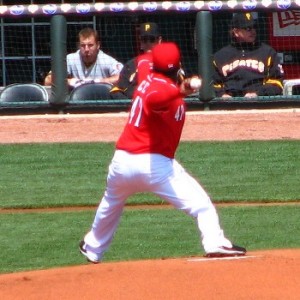 First, the disabled list came for Adam Wainwright of the St. Louis Cardinals. Then it came for Zach Greinke of the Milwaukee Brewers. And now it might be the Cincinnati Reds and Johnny Cueto's turn.
Cueto left his start Saturday after just one inning, with biceps stiffness. Cueto flew from Arizona back to Cincinnati today, and will have his arm examined Monday by Reds medical director Dr. Tim Kremchek.
Well, that doesn't exactly fill me with confidence. Kremchek is one of the best at Tommy John surgery, but he's shown time and again over the years that he's horrible at diagnosing Reds players. We can only hope he gets this one right.
Baker said it was premature to speculate that Cueto might need Tommy John elbow surgery.

"It's in the bicep," Baker said. "Johnny says his elbow feels good. His shoulder feels good. It seems like it's in a spot in the muscle, he told me. … We won't know until he goes back to see Dr. Kremchek."
Cueto has now left early in his last two starts, which means he's unlikely to be ready for his third spot in the rotation when the season starts. I do hope everyone is correct and that the issue is minor. It would be nice for Cueto to start at least one game this year.