October 5, 2012
With the Cincinnati Reds not scheduled to start their first round of post-season action until tomorrow night at 9:37, here's a few things to check out to tide your lack of Reds baseball withdrawal.
1. Hanigan worked harder to get his job than you did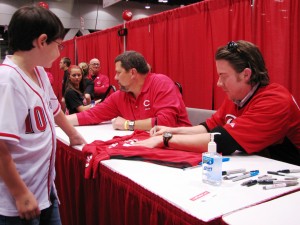 John Erardi wrote a profile of Reds' catcher Ryan Hanigan. After toiling through the minor leagues as an undrafted player for longer than most people would put up with, Hanigan made it to the majors as the Reds' backup catcher for three years. This year, though, he's been the primary catcher.
"I was pretty honest about my talent level," he remembers. "I was always comparing myself to other guys. I came up (in minor leagues) with Russ Martin (Los Angeles Dodgers/New York Yankees catcher) and Brian McCann (Atlanta Braves catcher) and I felt like I could compete with them. I wasn't happy just getting up here. I never felt like, 'OK, maybe I can be a backup.' I always wanted to keep working and establish myself … Eventually, some Reds (brass) began taking notice, but I had to earn that. I wasn't given anything, that's for sure."
It's one of the best pieces of sports journalism from Cincinnati about the Reds this year, so you should give it a read. Plus, there's a bonus appearance by Reds broadcaster Jeff Brantley, who refers to Hanigan as "The Brain." It takes one to know one, I guess.
2. Vegas thinks the Reds could win it all
The Las Vegas sports books released their playoff odds yesterday, and the Reds are on par with the Yankees and the Nationals.
Odds to win the 2012 World Series
Cincinnati Reds 5/1
New York Yankees 5/1
Washington Nationals 5/1
This is good news, in that Vegas seems like it has a good track record on these sorts of things.
The team with the worst odds to win it all? The St. Louis Cardinals at 15/1.
3. Bailey to start game 4, if necessary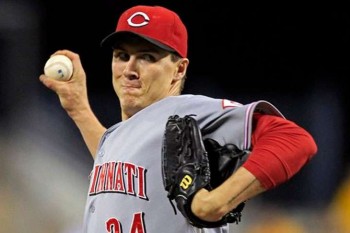 After announcing the starters of the first 3 games against the Giants as Johnny Cueto, Bronson Arroyo, and Mat Latos, manager Dusty Baker announced that if a fourth game is necessary, Homer Bailey would be his man.
Previously, Baker had been leaning towards a 3-man rotation. What changed?
"There's not enough time off in between with the way they've got it planned," Baker said. "Johnny will come back if there's a Game 5."
My preference would be for Bailey to never need to start, for the good reasons. A Reds sweep, even though it would mean only one game at home, would be awesome, and the first Reds' post-season series victory I will have seen since 1990. I recall it being an enjoyable experience.
4. Three players left to cut
The Reds traveled to San Francisco with 28 players. That, of course, is three more than is allowed, meaning a final decision needs to be made.
Among players that could be on the roster bubble, for this round: relievers Logan Ondrusek, J.J. Hoover and Alfredo Simon and starter Mike Leake. If the club does not carry three catchers, Devin Mesoraco would likely be on the outside looking in.
Discussion in the RHM household has Mike Leake and Devin Mesoraco unlikely to make the cut for this first round. Dioner Navarro has out-played Mesoraco down the stretch, and in a best-of-5 series, there's no need for a fifth starter.
The final roster announcement is likely to come after the final workout at San Francisco's AT&T Park this afternoon.