July 3, 2005
After hours of preparation and driving to get our family of three out to Cincinnati for Saturday's double-header, we were finally in our seats with our Delta Airllnes scrolls in-hand. The scroll says "Go Reds" on one side, which is cool, and "K" on the other side, which seems a tad cruelly ironic. The scroll was very popular with Winter who would sit for minutes at a stretch opening and closing it or stretching it over his little belly and saying "dis is a nice shirt." We usually sit on the first-base side because it's the shady side, but today we were out by left field. It gave us a whole new perspective on the game.
Game 1: 3-4 Astros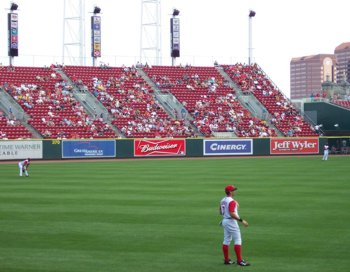 Seemed like hardly anyone was there for the first game. I assumed that the crowd would die off for the second game, and that would mean there would really be almost no one there. Of course, even though our section was nearly empty, the row behind us was populated with a family with two kids, so we felt obligated to keep our snarky comments to a minimum.
Aurilia hit a homerun in the bottom of the first, giving the Reds the early lead. It was nice to enjoy a lead for a while.
Jason Romano had a great diving catch in the second, which I enjoyed watching immensely. Later, he would chase down a ball that bounced off the wall and throw into third, prompting a guy a few rows back from us to yell at him for not throwing to second. I am confident that he didn't have a play at second, but I didn't yell anything.
In the third, foul ball came to our section which is always an adrenaline rush and you try to figure out how to get the camera, beer, or whatever out of your hands and protect your child's head.
Wily Mo Peña, who played Vanilla Ice as his plate music, hit a monster homerun in the fourth while I was taking Winter to get some nachos. Figures.
In the sixth, Taveras put down a good bunt that might or might not have been playable had Harang and LaRue not collided going for it. Better than no one going for it, I guess, but another what-if.
After six innings of decent pitching, Harang loaded the bases in the seventh. With one out Palmeiro flied to deep center field. Griffey made an awesome diving catch! The crowd went absolutely nuts! Apparently not noticing that the Astros scored on the sacrifice! And took the lead!
In the eighth the family behind us left, which was good because the kids had been getting progressively grumpier as the game went on. However, they were almost immediately replaced by squatters, so we still had to keep the snarkiness down. Soon the game was over, though, with yet another loss, and there was nothing to do but to get a sno-kone before the second game got started.
Game two: 11-6 Reds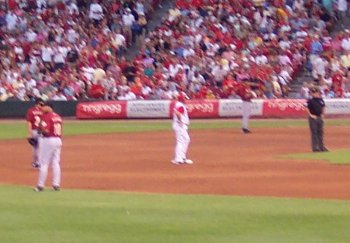 I had totally not called it about people leaving for the second game. In fact, they started showing up in droves at the end of the first game, and the crowd at the stadium was downright respectable for game two. The Astros came out in completely different uniforms for the second game. Very fashionable.
Oh was the top of the first ugly! The very first batter hit a homerun; Ausmus bunted and Ortíz was totally there, but stumbled and missed the out; Burke hit one to the wall. Boos came down like rain. It was a relief when Ortíz struck out the pitcher to finally get that inning over with.
But you knew that something was in the air when Lopez hit a homerun to start the bottom of the inning. And even though Griffey and Peña would go on to be stranded, I had a good feeling about the surmountability of the Astros 4-1 lead.
In the top of the second, Dunn made a nice grab over the dugout fence. But Valentín was over there too, so even if Dunn hadn't been there, I'm sure it would have been caught.
In the third, a chubby guy dancing to Cotton-Eye Joe provided the highlight of the evening to that point. In the bottom of the third, Dunn was played in with Night Ranger's Sister Christian and prompty hit a two-run shot to bring the score to 3-4.
In the bottom of the fourth, Valentín was played in with some bad-ass rap in Spanish and hit a foul ball not five seats away from me. The guy reached out for it but it bounced off his hands and back into the field. I turned to Jon and said, "If it had come here, I would have caught it."
"No you wouldn't," replied Jon shaking his head.
"Hell yes I would have," I said, "Javy hit it. I would have fallen off the wall if I'd had to."
Then Jon was convinced.
In the fifth, a handful of 10-year old boys decided to stand in the aisle right next to us and utterly block our view, but boy were they excited when Griffey drove in Olmedo to tie the score at fours. Then Wily Mo hit in Griffey, and then Cruz hit in Wily Mo, and then Javy hit in Cruz. It was a heck of an inning, ending with the Reds leading 7-4.
It looked like the Reds scoring might be done for the night when they failed to tack any more on through the sixth and seventh inning. We still got a highlight in the seventh, though when they played the happy birthday song for Casey, who looked downright embarassed featured up on the big screen. They followed that up with a brief clip of him singing from Oh Say Can You Sing?
Ryan Wagner came in to relieve Ortíz in the seventh after Ortíz allowed a run to bring the score to 7-5. Take out that first inning, and Ortíz had a heck of a night. Wagner then promptly served up a wild pitch and a hit to allow another run. Edwin Encarnación made a nice play at third to put a thankful end to the inning with the score 7-6. The question on everyone's minds: would one run be enough?
During the seventh inning stretch, Winter actually sang some of the words to Take Me Out To The Ballgame which just goes to show how many baseball games we've already taken him to in his four years. He then fell asleep in Jon's arms. His night was done.
Things really got scary in the eighth when Olmedo made a somewhat silly-looking miscue at second, followed immediately by an easy double-play ball that somehow didn't make it into Dunn's glove. However, Ausmus knocked the ball back to Belisle to end the inning with the one-run lead still intact.
The bottom of the eighth provided some of those insurance runs that I've heard so much about. Encarnación singled; Randa was hit; Lopez singled in Encarnación; Randa and Lopez advanced on a passed ball setting Randa up to score on Olmedo's sacrifice to right field. Then the ever-fabulous Ken Griffey Jr. homered to right to bring the score up to what would be the final, 11-6.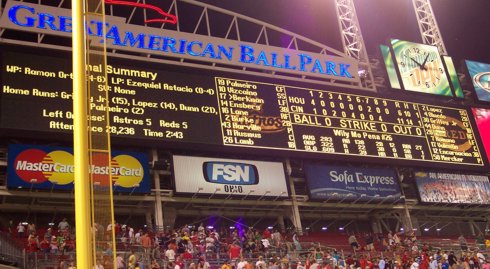 After the Game
As we walked over to try to find the Gameday Sports Cafe, we passed a guy lying on the sidewalk not looking at all healthy. A vendor nearby said that the police had already been called so we continued on our way, but I do hope he was OK. Should we find out that the poor fellow was in as poor of shape as he looked, the whole memory will have a very macabre tint.
At the Gameday Sports Cafe, we found that they were not doing Extra Innings there because of the double-header, which really sucked because Jon had hauled our sleeping child all the way there and now needed to double-back against the crowds to go find our car. But at least we know where the place is for next time.
About an hour and a half into our trip home, the road suddenly got very bumpy. A few seconds later, we realized that we'd had a blow-out. Jon pulled over and we got about the business of changing the tire and after the lengthy process, I was left wondering where the heck so many people were going on I-465 at 11p.m. in such a doggone hurry. Jon got the spare on and discovered that it was flat. At least we were able to drive on it long enough to get off the highway and use our little mini-compressor thing to get it up to spec. Then on to the fun of driving 50 the rest of the way home while traffic sped past us at 80 and finally arrive home more than an hour later than expected at 1 a.m. Made for a long day.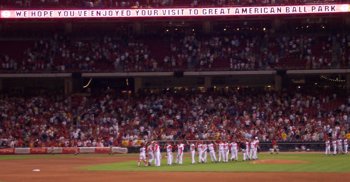 Nevertheless, I did enjoy my visit to Great American Ball Park, and I'm really looking forward to going back. Our next scheduled visit is at the beginning of August. We'll have our scroll ready.