July 4, 2005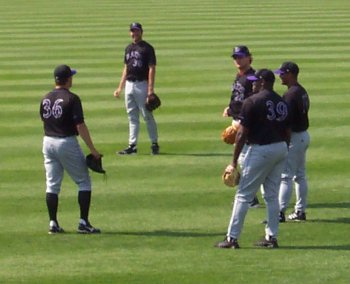 It's the fourth of July. We're at a baseball game. We're each waving the miniature flag they gave us at the gate. Can you get a bit more patriotic than that?
The long-awaited visit by Bats to Victory Field was finally here and we were ready to partake of some baseball. After we sunblocked ourselves all up and got a couple drinks to rehydrate from sitting in the hot sun, I settled in with my little book to take some serious notes. My note-taking was quite the conversation starter tonight. An usher asked if I was keeping score, and I told him that I was just jotting down my observations.
He responded, "Oh, are you a scout or something?"
"No, nothing that official," I laughed.
Which begs the question: do they have 20-something women scouts who take their husband and 4-year old to games? If so, sign me up.
My notebook also prompted the guy next to us to start up a conversation. I told him about Red Hot Mama and gave him the URL, so if you're reading this guy-who-sat-next-to-us, well, "hi!" and "thanks for visiting!"
Let's do a quick recap of the game:
Each team put up a fairly boring first two innings, unless you count a couple errors by Bergolla at second and Machado at short in the first as exciting. Each would also be caught stealing later in the game. Tough night for the middle infield.
The Indians struck first in the bottom of the third when Craig Wilson, in Indy on rehab assignment, hit to right field with two out and a man on first. Kearns threw home, but the throw was wide, Sardinha threw to second to eventually get Wilson in the rundown, but McLouth had already scored from first.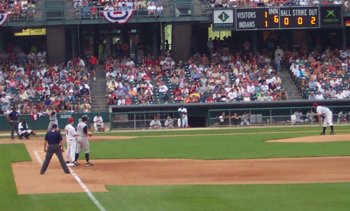 The Bats came right back in the top of the fourth when Kearns tripled off the center field wall and Rick Bell flied out to left center field to sacrifice him in.
In the middle of the sixth, the Indians announced that they would be giving away Aaron Boone bobbleheads on Sunday to the first 4,000 attendees of their game against the Durham Bulls. A Tampa Bay affiliate. Am I the only one who thinks that's a little strange?
That was the last scoring we'd see until the seventh inning when the Indians put in Mallette to pitch. Mallette walked Perez, who was then bunted over by Sardinha. Holbert doubled to center field, scoring Perez. Pinch hitter Alex Fernandez then singled to right field, moving Holbert to third, and Machado walked to load the bases. Bergolla came up to single to center field and score two, bringing the score to 4-1.
In the bottom of the seventh, Simpson came in. While he'd been warming up, two or three of his warm-up pitches had ended up out in right field, which didn't portend good things. Simpson hit de Caster, gave up a single to Crespo, and walked Valendia to load the bases. He got the next two batters to fly out, but the man on third scored on the second fly ball, bringing the score to what it would end up as, 4-2.
Austin Kearns, whom we had gone specifically to see, had a good night, going 2-3 with a walk. (And since it washed out as a win, we'll just ignore the double play he grounded into to end the sixth.) He also had a conversation with a guy out in the grass behind right center, actually during play. I tried very hard to hear what that was about, but no dice.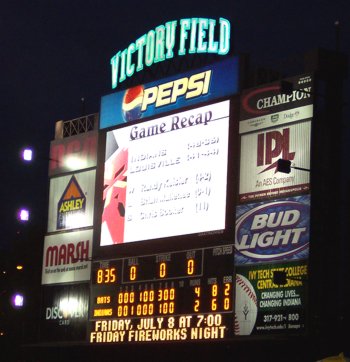 Keisler ended up with the win, Booker got the save, and I had to leave before the fireworks because Winter's afraid of them. At least we missed the traffic.
A very patriotic time was had by all, and now I just have to talk Jon into going back tomorrow. Maybe we can bring our own apple pie.