June 30, 2005
Here's that picture of the field that I was hoping to show y'all last week. They've done an excellent job of keeping the actual field mowed this year; last season playing in knee-high weeds was quite an adveture. This season, we just warm up in knee-high weeds before taking the field. Notice the vantage point in this photo: directly behind the plate. Now notice where second base is: 10 degrees to the right. Since there is no mound, it makes it intensely difficult to figure out where to stand while pitching.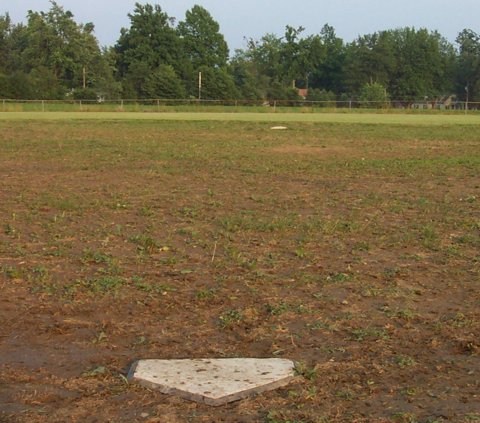 But, like I said last week, it's always available and it's free through the generousity of the plumbers and steam-fitters' union, and we are very appreciative.
When Jon and I arrived at the diamond yesterday, we didn't know what to think. The week before we had heard that we would be playing the Cardinals, the team that we like to think of as having a lower skill level even than ours, though we're probably fooling ourselves. When we rolled in, though, it was clearly not the Cardinals on the field but instead the Rebels, our ringer team.
I should explain the ringer team. In Special Olympics sports, you play a "season" of something like four games solely to determine your placement in the state tournament. Damar is a facility on the north side of Indy that, year after year, has fielded a team of people with no apparent disabilities and has always won the gold. Our county decided to make an effort to pull together a group of higher-skill players to give Damar a run for their money. Hence our ringer team.
You might think that this is an unnecessarily competetive attitude to carry into a Special Olympics sport, but it is far from the worst behavior you'll see on the field. The worst I've ever seen was in our own tournament appearance two years ago. Even though we were in the second-to-bottom grouping in the tournament, the team opposing us was huge. No kidding, their smallest person was bigger than our biggest person.
They smashed ball after ball past us in the outfield, even invoking this unusual rule in SO softball where if you hit more than one more ball out of the field than your opponents, it counts as an out. Eventually, of course, we were the victims of the mercy killing and the game was over as were our hopes of medaling. It was not just frustrating; it was totally demoralizing. Utterly humiliating.
We didn't find out until after the game that this particular team had used entirely different players during the season to get their placement in the tourney, then brought in these goliaths to smash us at state. We saw a few of the regular players, who were normal size, when they got a single at-bat at the end of the game when all hope was utterly lost for us, but other than that, they wouldn't even let the regulars play.
Makes you feel good about Special O, huh? Our team, of course, is about as diametrically opposite that as physically possible. Which is probably why we lose so much.
Like we did last night. Our pitcher again did not show up, which left us one partner short and having to borrow one of the athletes from the other team to fill the gap. Our first time through the line-up was pretty weak, but we got our big inning in the third with four runs, and tacked on two more in the fourth. Of course, by that time we should have already lost by the run rule, but whatever.
Highlights of the evening included:
A fantastically bizarre double-play by which Robert out in left-center actually caught the ball in the air and got it in to second to pick off the runner who had been on first and was past second when he finally noticed his team shouting at him to go back. He went back, but directly across the infield, skipping second entirely.
I went 2-for-3 with 2 RBI on a hit that went all the way out of the infield.
I pitched a shutout inning in the bottom of the same inning where we scored four. That was a good inning for us. I also had a few strike-outs. Well, foul-outs, anyway.
All-in-all, an excellent start to our season, and I sorta got to be the star. Next Wednesday we play at the real field in Indy. With the fancy scoreboard and all, I might even be able to bring back the proper score.