June 15, 2006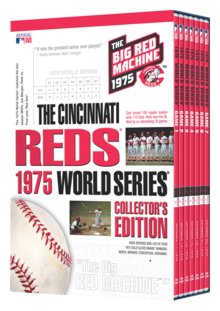 A&E and Major League Baseball has put together a seven-DVD collector's edition of the 1975 Big Red Machine World Series. I won't have time to review the set until this weekend, but just looking at the box, you can tell this is a beaut. Click the "More" link below to read all about this DVD set.
I am also pleased to announce that I have three promotional copies to give away for absolutely free. That's no small prize, my friend. The very, very cheapest you're going to get this thing for is $41, and that's before shipping.
I'll select the winners by random drawing.
To enter, post a Reds' or otherwise baseball-related haiku (seventeen-syllable verse form, arranged in three lines of five, seven and five syllables) in a comment on this entry.
Poems must be posted by 11:59 p.m. EDT Monday, June 19, 2006.
Since you have to register to post, I should be able to track you down from your username.
All are welcome to enter, so tell all your friends.