June 9, 2006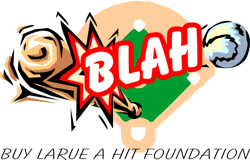 OUR MISSION
Buy LaRue a Hit is an organization of Reds fans dedicated to ending the suffering of Reds' catcher Jason LaRue by helping him to return to form as an offensive non-liability.
THE NEED
Any color announcer can tell you that Jason LaRue couldn't buy a hit these days. At the time of this writing, the Reds' proud number one catcher was 1-for-his-last-30 at-bats. It's time for someone to step up and buy this guy a hit.
You might wonder why LaRue can't buy his own hits. The contract he signed this off-season gives him $3.6 million this year after all. Unfortunately, Dan O'Brien had worked a special clause into the contract to try to ensure his own job security.
14(b). Monies from said contract cannot be utilised for the purpose of acquiring helicopters, wolverines, hits, and/or lawn furniture without the express written consent of one Mr. O'Brien, hereafter known as THE EMPEROR.
HOW YOU CAN HELP
With your generous donation of just $750, you can help Jason go 2 for 4 in a game. Just $1400 will give him a double and 2 RBI. That's less than a dollar a day for four years.
So please, won't you look into your heart today and open your wallet for the team and the catcher that you love? Every little bit helps. Even just $20 will let Jason foul off a good pitch.
You have the power to make a real difference in the outcome of the Reds' season, but you have to take action. It's up to you.
UPDATE: Plans are in the works for Buy LaRue a Hit Day at Great American Ball Park! Watch for details!