February 4, 2011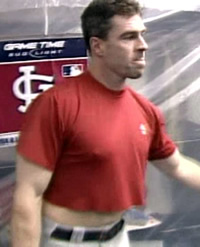 Despite Cincinnati Reds general manager Walt Jocketty saying that he though outfielder Jim Edmonds would retire, today, the Associate Press reports that the St. Louis Cardinals have signed him to a minor league deal.
Whether there is more to this story remains to be seen. It could be one of those moves where an athlete returns to the team he was most famous with to retire with them. Or it could be that the Cardinals are looking to add any depth to their shaky outfield. I mean, Lance Berkman is not going to last an entire season in left field. The latter is what the AP report speculates as the reason.
St. Louis made the move Friday to bolster outfield depth behind Matt Holliday, Colby Rasmus and Lance Berkman.
We'll see. I'm just glad he's no longer on the Reds to steal at-bats away from younger, more-promising players.