February 24, 2011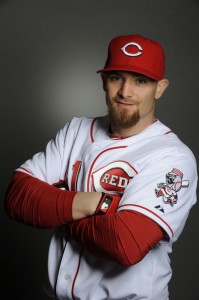 Cincinnati Reds outfielder Jonny Gomes started some controversy following news of the elbow injury to St. Louis Cardinals pitcher Adam Wainwright yesterday. According to Hal McCoy of the Dayton Daily News, he heard Gomes happily singing, "Wainwright's gone! Wainwright's gone!" Mention of this has since been removed from McCoy's post.
Cincinnati Enquirer's Reds beat reporter John Fay had a different take on events.
Gomes walked out of the players dining room singing the Karate Kid song: "You're the best around. I'll never let you down . . ."

He continued and mentioned Adam Wainwright. Gomes said he sang "Is Wainwright gone?
Fay then says he didn't remember what Gomes sang, but obviously he didn't find it news- or quote-worthy. In fact, when Fay interviewed Gomes later, he said, "I would never wish injury on anyone. If he's hurt, I wish him a speedy recovery. I know Wainwright. He's a good dude. It's a great organization."
What's interesting about this story is the firestorm it created online, especially on Twitter. It seems Cardinals fans don't like opponents being happy when their best player gets a season-ending boo-boo. Sampling the comments on McCoy's article gives an overview of the vitriol.
"Garbage. That's what the whole Reds organization is."

"The Reds can take pleasure in Wainright's injury. But that won't change the fact that they are a band of losers."

"What a piece of garbage Gomes is for being happy about the injury of another player."
I don't get it. This doesn't sound like the "best fans in baseball" to me. Assuming Gomes did say what McCoy quoted him as saying, isn't that a sign of respect? It's acknowledging that Wainwright is a very, very good pitcher. I understand the disappointment of losing one of your favorite team's best players to injury. I followed the Reds when Ken Griffey Jr was there, after all. But the angry verbal attacks from Cardinals fans against the Reds is worse than what they purport to be offended by.
Overall, I think the Cardinals fans have gotten too used to winning to know how to lose. I think that Brandon Phillips' comments about the Cardinals from last year ring more and more true. "All they do is bitch and moan about everything, all of them, they're little bitches, all of 'em." It certainly applies to a good portion of Cardinals fans right now.