February 14, 2011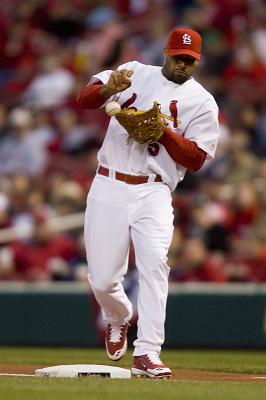 It sounds like the unthinkable is actually going to happen. Albert Pujols and the St. Louis Cardinals are breaking up. Prince Albert has reportedly turned down the Cardinals' contract extension offer.
Wow.
I always thought the two would work things out and make sure that Pujols would be a life-long Cardinal. It's not looking so likely now.
[Pujols] will announce Tuesday he's ceasing contract talks for the duration of the season, a person close to Pujols told USA Today.
Pujols has also indicated he will not discuss the contract status when he reports to Spring Training on Wednesday to avoid distractions from baseball. Clearly, Albert understands exactly how the media works.
Manager Tony LaRussa is not so naive to think it won't be an issue, though.
Manager Tony La Russa told reporters Sunday he will also encourage his players to avoid the issue.

"This is a spectacular distraction potentially," La Russa said. "We won't allow it to be."
Yeah, good luck with that. The Cardinals underperformed last season without the Albert Pujols Distraction. 2011 isn't starting off particularly well for them.
I guess does this mean that the "best fans in baseball" aren't good enough to keep the "greatest baseball player" around.