Daily Archives: February 27, 2011
February 27, 2011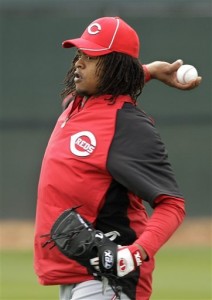 Every year, it seems there's a baseball player or two who have Visa problems upon entering the United States. This year, the lucky recipient seems to be Edinson Volquez.
The U.S. government has yet to approve Volquez's work visa. The right-hander, who is from the Dominican Republic, is in the country on a traveler's visa but it does not permit him to perform in games in front of paying customers.
Because of that, Volquez will not start today's spring opener against the Cleveland Indians as originally planned. Instead, Matt Maloney, who's competing for a bullpen spot, will get the chance to impress. Volquez will continue working out and likely pitch in minor league games until the Visa issues are cleared up. Hopefully, that will be soon, but no one knows when it may happen.
"It's up to the government," Reds general manager Walt Jocketty said. "He can stay here until it's approved and when it's approved, we'll send him back [to big league games]."
As long as it's by opening day.