February 15, 2011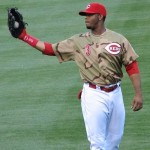 Ken Griffey Jr has always been my favorite baseball player, and I found how his career ended in 2010 to be quite sad. But today's news about his old club hiring him strikes me as good news.
Ken Griffey Jr. is returning to the Seattle Mariners as a special consultant less than a year after abruptly retiring from baseball.
Good. Griffey was always good for the game, and I'd hate for him to no longer be associated with it. Hopefully, he can stay awake for this job, though.