February 5, 2011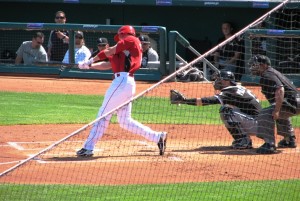 John Erardi, with help from Joel Luckhaupt and others, wrote a nice article highlighting how important Drew Stubbs could be for the Cincinnati Reds this season.
At 26, Stubbs will be starting his second full year in the majors. This after a first full season that was…uneven, yet promising. The way Stubbs finished the season so strong was certainly a major factor in the Reds outdistancing the St. Louis Cardinals. What 2011 will show is whether that excellent showing at the end of the year was a fluke or a fulfilling of potential.
The last two months were a coming out party for Stubbs and Bruce. From August 1st on, Stubbs hit .308, got on base at a near .400 clip, hit 9 home runs and stole 12 bases in 197 plate appearances. Bruce was even better (.338/.418/.699, with 15 HR in 153 plate appearances).
What overshadows Stubbs growth as a player, though, is his lack of bunting prowess. I've often found this criticism to be a bit dubious. Yes, Stubbs is speedy, but he clearly has power, and you can't bunt for a double or a home run.
Stubbs has also been criticized for his high number of strikeouts, much like Adam Dunn before him. Erardi takes on that criticism head-on.
Not everybody in Reds Country has absorbed this cardinal rule of baseball offense:

What kills an offense is not strikeouts, it's almost any kind of out.

Stubbs struck out a team-high 168 times last year; Bruce, 136, Joey Votto, 125, and Jonny Gomes 123. Brandon Phillips struck out only 83.

But here's why "making contact" can be so deceptive:

Despite having twice as many strikeouts as Phillips, Stubbs did a better job of "getting on base plus slugging" than Phillips did. And even though Phillips had a batting average that was 20 points higher than Stubbs, Stubbs had a better OPS (on-base percentage plus slugging percentage) because he walked nine more times and hit four more home runs (in 100 fewer plate appearances). Stubbs also grounded into 8 fewer double plays.

The point: Pay attention to how many outs a guy makes, regardless of how he makes them. Strikeouts aren't all that big of a deal, especially when a guy does so many other things well.
Hopefully, this article will begin an education of both Reds fans and management. It would also be nice, as the article concludes, to focus on all the things a player does well instead of focusing on the things he doesn't.