February 17, 2011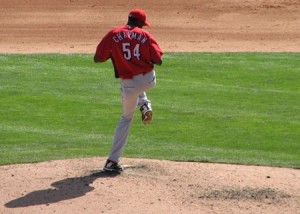 Today at the Cincinnati Reds spring training facility in Goodyear, Arizona, it was all about Aroldis Chapman.
First, John Fay interviewed pitching coach Bryan Price about things Chapman needs to work on and his future role.
"First and foremost, especially with young guys, it's going to be about command and commanding the count. Where he would be vulnerable is if he sets a precedent of being behind in the count and guys are comfortable enough to lay off some pitches. You don't want to get to two strikes with this guys, he has a lot of ways to put you away."

"He has to continue to work on the slider and make it a higher-percentage strike pitch as well as finish pitch."
Price again reiterated the Reds position that Chapman's eventual roster spot will be as a starter, but that it's best to introduce him to the majors via lower pressure relief situations. I like how the Reds have been handling Chapman. Letting someone break into the big leagues in a relief role allows the club to better control the pressure and the number of innings, not to mention it allows the pitcher to focus on perfecting a couple pitches instead of the arsenal a starter needs. I do look forward to seeing what Chapman can do as a starter in another year or two, though.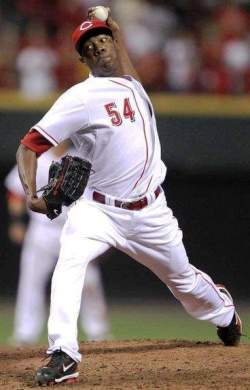 Dusty Baker also spoke about Chapman and his role with the Reds this year.
"One thing I want squash right now is closer-situation controversy. I know everyone want's to be in a hurry to rush him in there. But we've got to get him acclimated to what he's doing first. (Francisco) Cordero, even though it's been exciting at times, he's still second at least our leagues in saves the last two years. That's something that most people overlook."
Are there lots of people clamoring for that? I know Cordero was frustrating as hell last year, and it was nice to have Chapman available to bail him out on occasion, but I don't think it would be wise to throw Chapman into the pressure-cooker of the 9th inning.
Lastly, John Fay interviewed Chapman via interpreter. He's happy in his relief role and has a lot of desire to improve. Given his flashes of success last year, I'd like to see him improve, too.
Chapman also talked about the intense expectations that he feels from the crowd whenever he takes the mound.
"I really feel good when I see those things the fans want me to do," he said. "But, really, the truth is that particular moment I don't think about those things. I just do what I have to do. I think about my job. . . At that moment, I just want to pitch."
That's probably wise. Otherwise, those 105 mile-per-hour fastballs might be flying over the fences, or leaving mighty painful bruises.