February 20, 2011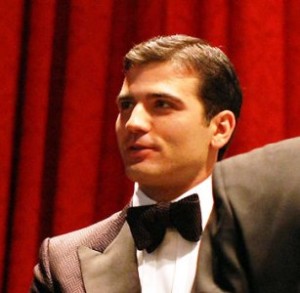 Joey Votto is not your average baseball player. Granted, that may be obvious from the numbers he's put up for the last two years playing for the Cincinnati Reds, but I don't mean that.
Whenever I read an interview with him, I come away marveling at the amount of thought Votto seems to put into his answers. Sports athletes are rarely known for their intellect because that's not what they're paid for. For brains, you watch Jeopardy! But the sports arena is for feats of athletic prowess.
Still, Votto displays his thoughtfulness whenever he appears in the media more so than your average player.
For example, yesterday Cincinnati Enquirer Reds beat reporter John Fay talked to Votto, and Votto first talked about how he didn't think pitchers pitched around him.
Votto doesn't expect a change this year: "I don't imagine it. I'll assume guys will go after me, and I'm going to be ready for it. The ultimate guy that got pitched around was Barry Bonds. He said he assumed every pitch was going to be a strike, every pitch was going to be coming after him. That's the approach you have to take. That's probably the most difficult thing about our job. From Day 1 to hopefully the last out of the World Series, you have to be ready."
That sounds like an excellent approach. One pitch at a time, and never expect them to give you anything. With Votto's intensity, I'd love to see him be able to show just what he learned from last year's postseason appearance.
Votto expects to improve this year, which is kind of a scary proposition.
"I'd like to be more efficient. I'd still like to be a better teammate. I'd like to be a better defensive player. As far as a hitter, I'd like to be more efficient. I feel like I wasted a lot of at-bats last year."
He got on base 42% of the time, and he felt he wasted "a lot" of at-bats. Just let that sink in for a minute.
Since having such an excellent 2010 season, getting voted onto the All Star team (Vote Votto!), and winning the National League Most Valuable Player award, Votto's prestige has grown. He's on the national radar now. Given his issues following his father's death, there's understandable concern about how he might handle that pressure. Votto mentioned how he felt about that attention.
"It's paced itself really well. It's not like it was dumped on me. A guy like Aroldis Chapman or Jay Bruce or even Homer Bailey at the beginning, it's dumped on them. I've earned it. It's taken it's time. I'll adjust to it fine. I don't see a huge leap. Halfway through the season, people were chanting MVP. That's a huge compliment. I feel like I had enough time to de-sensitize myself to that."
That actually assuages some of my concerns. Votto's a big, strong baseball player. And I think he might just be big enough and strong enough to handle all the additional pressure that winning and succeeding brings. And doggone it, people like him.