Monthly Archives: June 2011
June 28, 2011
| Team | 1 | 2 | 3 | 4 | 5 | 6 | 7 | 8 | 9 | R | H | E |
| --- | --- | --- | --- | --- | --- | --- | --- | --- | --- | --- | --- | --- |
| Reds (41-40) | 0 | 0 | 0 | 0 | 0 | 0 | 0 | 2 | 1 | 3 | 8 | 0 |
| Devil Rays (45-35) | 0 | 0 | 0 | 1 | 0 | 0 | 0 | 2 | 1 | 4 | 6 | 0 |
W: Farnsworth (3-1) L: Ondrusek (3-3)
Okay, this is getting old. The Cincinnati Reds lost to the Tampa Bay Devil Rays tonight, dropping their record to 41-40.
That's 81 games total: the halfway point. Feeling good about the prospects of this team for the rest of the season? Because Walt Jocketty has shown his complete lack of ideas on what to do to improve the .500 team. And manager Dusty Baker's calm, toothpick-chewing ways aren't exactly lighting a fire under the under-performing team's ass.
Tonight, the Reds wasted another brilliant start by Johnny Cueto. Cueto went 7 2/3 innings, allowing 3 runs–two of which were allowed to score thanks to a rare bad appearance from Bill Bray. And then Logan Ondrusek allowed a walk-off home run to lose it in the 9th.
The Reds continue to be a tough team to watch, and the lack of apparent caring by anyone in charge of the team doesn't make it any easier. I'm not one to panic, but 81 games into the season is no longer early. That's a long enough time to get a good idea about the team's problem areas. And the 2011 Reds are weak on starting pitching and have gotten no offense and not good enough defense from shortstop. Waiting and seeing isn't going to make things any better.
June 27, 2011
| Team | 1 | 2 | 3 | 4 | 5 | 6 | 7 | 8 | 9 | R | H | E |
| --- | --- | --- | --- | --- | --- | --- | --- | --- | --- | --- | --- | --- |
| Reds (41-39) | 2 | 0 | 0 | 2 | 0 | 0 | 1 | 0 | 0 | 5 | 11 | 0 |
| Devil Rays (44-35) | 0 | 0 | 0 | 0 | 0 | 0 | 0 | 0 | 0 | 0 | 6 | 2 |
W: Leave (7-4) L: Hellickson (7-7)
Wait, what?
I know what you're thinking, looking at the title of this post, but it's true. The Cincinnati Reds actually won an interleague game! And this was the first game of the series against the Tampa Bay Devil Rays.
Mike Leake started for the Reds and did very well, going 6 shutout innings, allowing 4 hits, walking 2, and striking out 3. He picked up his 7th win. The bullpen closed out the shutout and the game, thanks to Sam LeCure and Nick Masset.
The offense still left 8 players on base, but they did drive in 5. Brandon Phillips was the hero, going 4-5, driving in 2 and scoring 2. Jonny Gomes returned to his former ballpark and did well, too, hitting a home run in the 4th.
All that added up to a shutout win. And it gives the Reds two chances to win their first series in about a million years.
June 26, 2011
Not that the team has been so great to watch lately–it's hard to see them get thiiiiiiis close (|—-|) every night–but it's bound to come together for them sooner or later, and it who knows, it might well be this Friday when they retake third place from those wily Pittsburgh Pirates.
So with that possibility in mind, the Red Hot Family has taken July 1 off from work and is including a quick 2.5 hour drive to Cincinnati in the four-day weekend. The Indians will be in town, so it shouldn't exactly be one of those games that people have to be talked into going to, but even so the Reds marketing guys have decided to use this as the tweet-up game.
I suppose if you read about it here and not on Twitter, that makes it not a real tweet-up, but everybody like a good deal and this is one of those. $25 for a ticket and a shirt is pretty darn good, even if they do tack on another $15 in processing fees.
You can check out the specifics of this deal at reds.com/tweetup and maybe the good deal will come with a good game.
June 25, 2011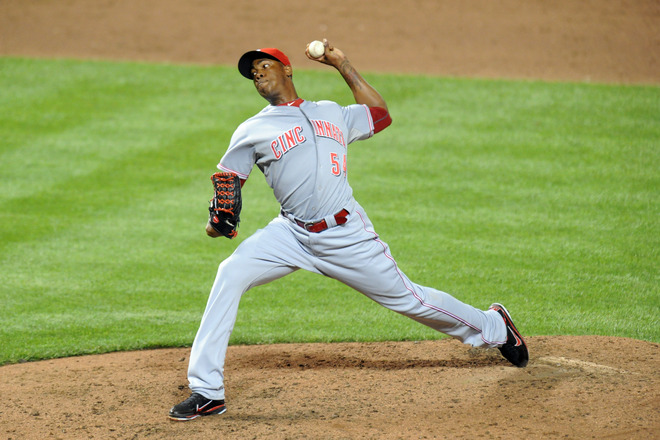 Aroldis Chapman made his return to the major league playing field tonight, and he did not disappoint. Though his ninth inning appearance against the Baltimore Orioles did come with a 5-run lead, it still wasn't exactly a no-pressure situation. After all, before he went on the DL, he might have gotten the loss in this situation.
But not tonight. Tonight, Chapman was all strike-outs, mowing down Matt Wieters, Mark Reynolds, and Robert Andino. The last pitch I saw clocked in at 101 mph. That's the good stuff people pay to see.
So, welcome back, Chapman. We're all looking forward to you outperforming Bad-royo the rest of the season.