April 10, 2012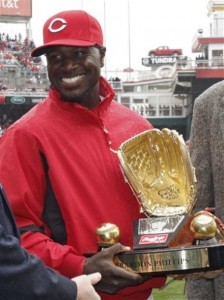 The Cincinnati Reds today officially announced what they'd been working on for most of the off-season: a contract extension for Brandon Phillips.
Phillips, who was in the final year of his contract, renegotiated that into a new, 6-year contract worth $72.5 million.
"We originally had a certain number of years in mind that we were going to do the deal," Jocketty said. "Then we realized that we'd probably have to extend another year, and that's what we did. We went another year on the contract. We were able to get the deal done rather quick after that."

The new deal adds salaries of $10 million for next year, $11 million in 2014, $12 million in 2015, $13 million in 2016 and $14 million in 2017.
Phillips is now signed with the team through 2017. Joey Votto is signed through 2023. Jay Bruce is signed through 2016. And Johnny Cueto, Aroldis Chapman, and Sean Marshall all have multi-year deals. The team has decided on a core group of players to build some winning teams around, but that's not the most important thing. How does this compare to Yadier Molina's off-season contract?
The good news is that Phillips and Molina are both signed with their respective teams through 2017. Moline added 5 years to his current contract and will be getting $75 million during that time. His annual average is $15 million. During those same 5 years, Phillips annual average is $12 million. Clearly, Yadi has a more lucrative contract, but there's no doubt that Phillips' will take up a higher percentage of his team's payroll than Yadi.
I'm hoping we get more fireworks between the two.